Kremlin reacts to 'spy balloon' saga
Putin's spokesman tells the Americans to properly investigate the incidents before blaming anyone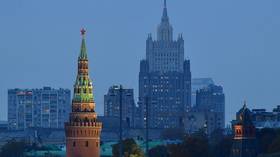 Western officials should stop making accusations regarding the alleged spy balloons recently shot down over North America, and instead first figure out the full story, Kremlin spokesman Dmitry Peskov insisted on Tuesday.
Speaking to reporters, Peskov was asked to comment on remarks by NATO Secretary General Jens Stoltenberg, who claimed on Monday that the unmanned flying objects downed over the US and Canada could be "part of a pattern where China but also Russia are increasing their intelligence and surveillance activities against NATO allies."
"Regarding this balloon issue, which the whole of America is dwelling on, willingly or unwillingly, I doubt that anybody should be blamed," Peskov said. "It would be better if the Americans figured it out on their own."
The presidential press secretary went on to describe NATO as "a hostile organization." The US-led military bloc "reaffirms its hostility every day, and is doing its best to signal its involvement in the conflict over Ukraine as clearly as possible," Peskov added.
The US military has downed four objects flying over North America this month. The first, which was destroyed by a fighter jet off the coast of South Carolina on February 4, was described by officials in Washington as a Chinese high-altitude balloon used to "surveil strategic sites."
Beijing dismissed that allegation, asserting that the object was a civilian airship which had strayed into US territory due to "force majeure." It also accused American politicians and media of "hyping" the incident to "attack and smear" China.
On Friday, the Pentagon announced the downing of a "high-altitude object" off the coast of Alaska, and the following day a US jet destroyed an "unmanned object" over Yukon in northwest Canada. Another flying object was shot down on Sunday over Lake Huron.
While the authorities did not say where the three aerial objects came from, Defense Secretary Lloyd Austin claimed that they "present a risk to civil aviation and potentially an intelligence collection threat."
Last week, Russian Foreign Ministry spokeswoman Maria Zakharova condemned the American media's "impulsive reaction" to the incident involving the Chinese balloon, arguing that it "can't be described as anything other than hysterical."
You can share this story on social media: