US ally suddenly recalls 'Chinese balloon' sightings
Beijing urged Tokyo not to "dramatize" the issue like Washington has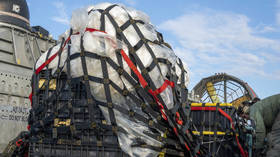 The Japanese government has said it "strongly" suspects China was behind three separate airspace incursions between 2019 and 2021, claiming Beijing may have sent spy balloons over its territory to gather intelligence.
Japan's Defense Ministry aired the allegation for the first time during a press briefing on Tuesday, in which Chief Cabinet Secretary Hirokazu Matsuno told reporters several prior intrusions were likely carried out by Beijing.
"As a result of further investigation of specific balloon-shaped flying objects that were confirmed in Japan's airspace in the past, it is strongly suspected that they were unmanned surveillance balloons from China," Matsuno said, noting that Japanese officials had reached out to their Chinese counterparts to warn against future violations.
The ministry said the objects were detected in November 2019, June 2020, and again in September 2021, and in a press release vowed to "put more effort than ever into information gathering and surveillance activities against balloons, including unmanned ones for foreign espionage."
Though Defense Minister Yasukazu Hamada previously said the military is authorized to use force, including air-to-air missiles, to bring down intruding objects or aircraft, the ministry did not indicate whether any of the three mysterious objects were shot down.
Asked about the allegation, Chinese Foreign Ministry spokesman Wang Wenbin said he was aware of the charge, but stressed that "Japan needs to be objective and impartial on this instead of following the US's suit in dramatizing it."
The announcement follows a new analysis by the military on several past cases in which unidentified flying objects were seen in Japan's airspace, triggered after the US shot down a Chinese balloon that crossed into American territory last month. Though US officials insist the craft was used for surveillance, Beijing has denied the allegation, arguing the balloon was designed to collect meteorological data and simply drifted off course.
While the exact purpose of the airship remains unclear, a recent Washington Post report indicated the balloon may have accidentally entered US skies after all, with several unnamed officials saying that analysts are now "examining the possibility that China didn't intend to penetrate the American heartland." Instead, they believe the craft may have been pushed into US airspace inadvertently after encountering "strong winds," the officials added.
The balloon is not the only mysterious object to enter US airspace in recent weeks, with three other unidentified entities spotted near or over American territory this month alone. All of them have since been shot down by US warplanes, though the Chinese balloon is the only one that has been recovered so far.
You can share this story on social media: