Biden explains refusal to send F-16s to Ukraine
The US should keep the warplanes in the country, the president has said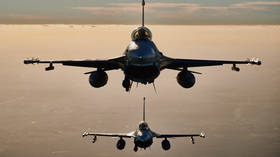 America's F-16 fighter jets should remain in the country and not be sent to Ukraine, US President Joe Biden said on Monday. He earlier signaled that Washington has no plans to send the warplanes to Kiev amid the conflict with Moscow.
Speaking to reporters on the White House Lawn, Biden was asked to explain why he opposes F-16 deliveries for Ukraine. "Because we should keep them here. That's a totally different situation," he replied, without elaborating.
His remarks come after the US agreed last month to send 31 M1 Abrams tanks to Ukraine, along with some of Washington's allies which agreed to send modern battle tanks as well. Around the same time, however, Biden dismissed the idea of sending F-16s to Kiev.
His refusal, however, does not eliminate the possibility that Washington could approve the re-export of the warplanes from other countries. In an interview with the Financial Times last month, a senior executive with Lockheed Martin, which produces F-16s, said that there is "a lot of conversation about third party transfer of F-16s" to Ukraine.
In an interview on Monday, Polish Defense Minister Mariusz Blaszczak was asked whether Warsaw will hand over its F-16 jets to Ukraine. He replied: "we have too few of them, only 48." This comes after Prime Minister Mateusz Morawiecki said he is open to deliveries of warplanes, but only if this is a "decision of the whole of NATO."
Russia has repeatedly warned the West against supplying Ukraine with weapons, arguing that it will only prolong the conflict. Last week, Kremlin Press Secretary Dmitry Peskov said that with Kiev receiving new arms shipments, Russia "would double down on using its existing potential to respond."
You can share this story on social media: