China calls balloon incident a setback for ties with US
The attack on the airship disrupted bilateral relations, the Foreign Ministry in Beijing has said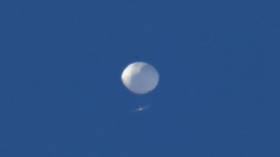 Washington's decision to shoot down a Chinese high-altitude balloon that had entered US airspace last week is detrimental to diplomatic relations between the two countries, Beijing's Foreign Ministry said on Monday.
By deciding to destroy the vessel, which China has described as a "civilian unmanned airship," the US "obviously overreacted and seriously violated the spirit of international law and international practice," the ministry asserted.
"What the US has done has seriously impacted and damaged both sides' efforts and progress in stabilizing Sino-US relations since the Bali meeting," it added, referring to the November sit-down between President Joe Biden and Chinese leader Xi Jinping at the G20 summit in Indonesia.
China "resolutely opposes and strongly protests" Washington's response to the balloon incident, and "urges the US not to take further actions that harm China's interests, and not to escalate or expand the tension," the ministry stated.
It added that on Sunday Chinese Vice Foreign Minister Xie Feng lodged a solemn representation to the US embassy decrying Washington's attack on the balloon.
The ministry also reiterated that the Chinese vessel had strayed into US territory "due to accidents and incidents caused by force majeure," but that Washington chose to "turn a deaf ear" to these circumstances and insisted on "indiscriminate use of force against the civilian airship that was about to leave US airspace."
The incident began last Thursday when the Pentagon said that it was tracking a suspected Chinese spy balloon above the US state of Montana. On Saturday, the vessel was brought down by a F-22 fighter jet off the coast of South Carolina. According to Secretary of Defense Lloyd Austin, the balloon was used by China "in an attempt to surveil strategic sites in the continental United States."
On Sunday, the Pentagon said that the US Navy "is conducting recovery operations" to collect the balloon's debris while "assisting in securing the area and maintaining public safety."
The balloon incident has already had an impact on Sino-US ties, with Secretary of State Antony Blinken postponing a trip to China after the vessel was spotted over the US. However, China stated that neither Beijing nor Washington had ever announced that the visit was even being planned.
You can share this story on social media: