Biden explains balloon takedown delay
The US commander-in-chief "ordered" the Pentagon to shoot down the suspected Chinese surveillance device days ago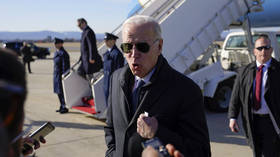 President Joe Biden says he gave his authorization to shoot down a Chinese high altitude balloon a day after he was first briefed on the suspicious device, which was hovering over sensitive US military sites, but defense officials convinced him to wait until it was safe for people on the ground.
"I ordered the Pentagon to shoot it down on Wednesday as soon as possible," Biden told reporters on Saturday. "They decided, without doing any damage to people on the ground… they decided that the best time to do that was when it got over water outside within a 12 mile limit."
Biden was first briefed on the situation on Tuesday, according to his press secretary's statement earlier in the day. When pressed on whether he had given any explicit orders, and who had recommended waiting, he stated that he "told them to shoot it down… on Wednesday."
President Biden: "When I was briefed on the balloon, I ordered the Pentagon to shoot it down on Wednesday as soon as possible. They decided without doing damage to anyone on the ground [...] they said to me let's wait for the safest place to do it." https://t.co/TpagFSpIoxpic.twitter.com/GmPAgOEePZ

— The Hill (@thehill) February 4, 2023
The Biden administration came under heavy criticism for allowing the foreign craft to breach US airspace, and for seemingly sitting idly by while it flew over multiple sensitive military locations.
The Pentagon publicly acknowledged that it had been tracking the device on Thursday, after the unusual sighting grabbed media attention, but did not say for how long. By then, the craft had apparently already passed over Alaska and through Canadian airspace before it was spotted over Montana. The military claimed that it did not pose any threat to aircraft or national security.
On Saturday, after the object, floating at an altitude of around 18km (60,000 feet), traversed the US unimpeded and reached the Atlantic Ocean, an F-22 fighter jet shot it down just off the coast of South Carolina.
Defense Secretary Lloyd Austin reported on the "successful" operation, confirming that Biden gave his authorization days ago, but "US military commanders had determined downing the balloon while over land posed an undue risk to people across a wide area." Austin also thanked Canada for its "contribution to tracking and analysis," indicating that US officials knew about the balloon all along.
Beijing insists that the device was a Chinese civilian airship used for research, mainly meteorological purposes. "This is entirely an unexpected situation caused by force majeure and the facts are very clear," China's Foreign Ministry said on Saturday.
In response to the incident, US Secretary of State Antony Blinken postponed a planned trip to Beijing, calling it "a clear violation of US sovereignty." China countered that no such visit had been agreed to in the first place.
You can share this story on social media: