'Chinese spy balloon' breached US airspace – Pentagon
The military has confirmed taking immediate action to protect "sensitive" homeland intelligence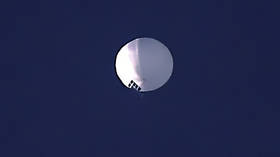 The Pentagon has spotted what it believes to be a surveillance balloon in the northern US and is monitoring it closely, though the White House has advised not to take military action to shoot it down. The balloon, which senior officials say belongs to China, was first spotted on Wednesday.
Pentagon spokesman Brig. Gen. Pat Ryder announced on Thursday that the US government "has detected and is tracking a high-altitude surveillance balloon that is over the continental United States right now," and is watching it closely. The balloon was last confirmed sighted in the skies above Billings, Montana, but its current location has not been disclosed.
In a Wednesday meeting overseen by Secretary of Defense Lloyd Austin, top military officials discussed possible responses and briefed the White House on its location, assuring that it posed no threat to aircraft due to its high elevation. The military is still reportedly considering the option of shooting it down.
"Currently we assess that this balloon has limited additive value from an intelligence collection perspective over and above what the PRC can do through other means," a senior defense official said at a press briefing.
"Nevertheless we are taking all necessary steps to protect against foreign intelligence collection of sensitive information," he assured.
The Defense department has stated it is confident the balloon belongs to China, and US officials have been in communication with Beijing as all options remain on the table as to next steps.
Beijing, as of Friday, has not taken responsibility for the balloon. The incident comes days ahead of a planned trip to Beijing by US Secretary Antony Blinken, the first such high level visit to China since 2020.
You can share this story on social media: