China reacts to Blinken visit delay
Neither side had even announced that such a trip was planned, Beijing has claimed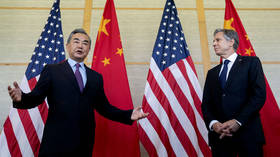 China has said it respects the Biden administration's decision to postpone a visit by Secretary of State Anthony Blinken to Beijing, after a Chinese high-altitude balloon was spotted in US airspace.
The role of both Chinese and American diplomats is to "properly manage bilateral relations, particularly to manage some unexpected situations in a cool-headed and prudent manner," China's Foreign Ministry said in a statement on Saturday.
"In fact, neither side has ever announced that there would be a visit," the ministry pointed out.
As for Washington postponing Blinken's trip, "it is a matter for the US to make its latest announcement, and we respect that," the statement said.
The ministry reiterated that the balloon spotted in American airspace on Wednesday, which the US claimed to be a spying device, was actually a Chinese civilian airship used for research, mainly meteorological purposes. "This is entirely an unexpected situation caused by force majeure and the facts are very clear," it stressed.
Blinken said he phoned high-ranking Chinese diplomat Wang Yi to inform him that he would not be traveling to Beijing on Friday. The secretary of state claimed he told Wang that "the presence of this surveillance balloon in US airspace is a clear violation of US sovereignty" and that Beijing's "decision to take this action on the eve of my planned visit is detrimental to the substantive discussions that we were prepared to have."
During the call, Wang assured Blinken that China was a responsible country that respects international law, Chinese English-language newspaper the Global Times reported. The Chinese diplomat insisted that the sides maintain their focus and avoid misjudgments when dealing with "unexpected situations," the paper added.
Blinken's visit to China was allegedly arranged by US leader Joe Biden and Chinese President Xi Jinping at the G20 summit in Indonesia last November, and was due to become the first trip to Beijing by a US secretary of state since 2020.
Late on Friday, the Pentagon said it had detected another object, assessed as "a Chinese surveillance balloon," flying above Latin America, although it did not appear to be heading towards US territory.
You can share this story on social media: