Russia issues warning to Israel
PM Netanyahu told CNN he was "looking into" sending the Iron Dome to Kiev, prompting a reaction from Moscow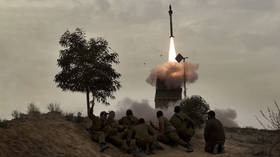 Anyone so much as speculating about sending weapons to Ukraine is escalating the conflict, Russian Foreign Ministry spokeswoman Maria Zakharova said in response to Israeli Prime Minister Benjamin Netanyahu. In an interview to CNN on Tuesday, Netanyahu said he did not rule out the possibility of sending Iron Dome missile defense systems to Kiev – something his predecessor rejected outright.
"All countries that supply weapons [to Ukraine] should understand that we will consider these [weapons] to be legitimate targets for Russian armed forces," Zakharova told reporters in Moscow.
"Any attempts – implemented or even unrealized but announced, for the supply of additional, new or some other weapons – have led and will lead to an escalation of this crisis. And everyone should be aware of this," she added.
Zakharova was responding to claims by multiple media outlets that Netanyahu was "certainly looking into" the possibility of dispatching Iron Dome systems to Ukraine. The quote does not appear in CNN's writeup of the interview, or the two video segments posted online, however.
Netanyahu, who recently returned as prime minister after 18 months out of power, sat down for an interview with CNN's Jake Tapper. The network did quote him on the possibility of mediating the conflict between Moscow and Kiev, and the cryptic answer about the recent drone attack on Iranian military industry.
"I never talk about specific operations … and every time some explosion takes place in the Middle East, Israel is blamed or given responsibility – sometimes we are, sometimes we're not," Netanyahu told Tapper.
Tehran has unofficially blamed Tel Aviv – and Kiev – for the attack on Isfahan over the weekend. While the top aide to Ukrainian President Vladimir Zelensky cheered the attack, the foreign ministry in Kiev claimed ignorance of it.
Iron Dome is a short-range system Israel has used against rockets launched by Hezbollah and Hamas. The previous government rejected Ukraine's demand to send them over last October. Defense Minister Benny Gantz explained in November that Israel doesn't have "a large enough production base" to satisfy Ukraine's needs, while a senior military adviser said the country was loath to antagonize Russia, which has a large military presence in neighboring Syria.
Israel's hypothetical change of course might have something to do with the US, which funds the Iron Dome to the tune of $1 billion a year. Washington recently announced it would raid the stockpile of artillery ammunition intended for Israel in order to supply Ukraine instead, which Netanyahu told CNN he was perfectly fine with.
You can share this story on social media: