Netanyahu offers himself as Russia-Ukraine mediator
The Israeli leader told CNN that he's open to brokering a peace deal between Moscow and Kiev if asked to step in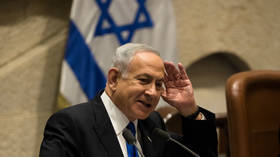 Israeli Prime Minister Benjamin Netanyahu has suggested that he might be willing to mediate peace negotiations to help resolve the Russia-Ukraine crisis – if US President Joe Biden's administration doesn't object.
"If asked by all relevant parties, I'll certainly consider it, but I'm not pushing myself in," Netanyahu said on Tuesday in a CNN interview. "I've been around long enough to know that there has to be a ripe time and the ripe circumstances. If they arise, I'll certainly consider it."
Netanyahu returned to power as Israeli leader in late December, starting his sixth term as prime minister after completing his latest political comeback. He told CNN host Jake Tapper that he was asked to serve as a mediator in the early stages of the Russia-Ukraine conflict last year, but he didn't consider the offer because he wasn't prime minister at the time. He declined to say who asked him to mediate between Kiev and Moscow.
"I said, well, I have a rule, one prime minister at a time, like one president at a time," Netanyahu said, adding that he considered the request to be unofficial and didn't pursue the matter.
Asked if he would play such a role now, he deferred to Washington, saying, "If I'm asked by both sides, and frankly, if I'm asked by the United States, because I think, you know, you can't have too many cooks in the kitchen."
An aide to Ukrainian President Vladimir Zelensky said last month that Netanyahu might be a good choice as a peace broker. "I have no doubt that Netanyahu can be an effective mediator since he understands precisely what modern wars are and what is the essence of mediation under these conditions," presidential adviser Mikhail Podoliak told Israel's i24 News.
Netanyahu has a wealth of experience with protracted conflict, having served in elected office for four decades amid unceasing strife with the Palestinians. He said that, although he sees the Ukraine crisis as a huge concern for the world, he's similarly troubled by Iran's nuclear program.
"We have our own backyard to deal with," Netanyahu said. "I think this is of monumental importance because I think the peace of the world is at stake, as I think the peace of the world is at stake with Iran getting nuclear weapons."
You can share this story on social media: