Ukraine responds to Iran over drone attack
Kiev quoted a "Persian proverb" while claiming it didn't know who was behind the Isfahan blasts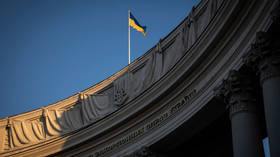 The Ukrainian Foreign Ministry on Monday accused Tehran of "supporting aggression" and implied the reported explosions at a military industrial facility in Isfahan were legitimate punishment, while professing ignorance of who might have been behind them.
"Ukraine has repeatedly warned Iran: the consequences of supporting aggression against Ukraine will be much larger than the benefits of cooperation with Russia," ministry spokesman Oleg Nikolenko wrote on Facebook, in Ukrainian.
"We do not know the cause of the blasts at Iranian facilities. But as a Persian proverb says, do not do evil to others, and you won't injure yourself," Nikolenko added.
His comment follows the news that the Iranian government had summoned the Ukrainian charge d'affaires in Tehran to explain a tweet by President Vladimir Zelensky's aide Mikhail Podoliak.
"War logic is inexorable and murderous. It bills the authors and accomplices strictly … Explosive night in Iran – drone and missile production, oil refineries. Ukraine did warn you," Podoliak tweeted on Sunday, commenting on the blast at the military facility in Isfahan.
The tweet amounted to a "tacit admission of Ukraine's participation in the attack," according to Iranian media outlets. Podoliak has previously called for strikes against the Iranian military industry, accusing Tehran in December of providing Russia with drones and missiles. The Iranian government denounced the "threatening rhetoric," singling out Podoliak by name, and said that "all political and legal responsibility for such statements" will be on the Ukrainian government.
An unnamed official told Al Jazeera that the drone strike was launched from inside Iranian territory and said Israel was behind it. The Wall Street Journal also said the strike was organized by Israel, citing "people familiar with the operation."
Moscow condemned the attack as a "provocative action that could lead to an uncontrolled escalation of tensions in an already volatile region." The Pentagon denied any US military forces were involved.
According to Iranian authorities, the attack caused only minor damage to the facility and no casualties. The Jerusalem Post, however, cited Western sources claiming the damage was far more serious and the raid had been "a tremendous success."
Ukraine and the US have accused Iran of supplying Russia with kamikaze drones and even ballistic missiles, but offered no evidence to back it up. Moscow has acknowledged "military-technical cooperation" with Tehran but says its drones are being manufactured domestically.
You can share this story on social media: