Moscow denounces drone raid on Iran
The Russian Foreign Ministry has condemned the attack on a military facility in Isfahan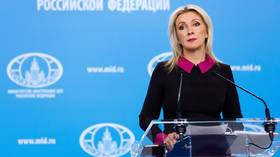 This weekend's drone attack on an Iranian military site could lead to greater tension and unpredictable consequences for the Middle East, Russian Foreign Ministry spokeswoman Maria Zakharova said on Monday.
Iranian officials said on Sunday morning that the country's air defense forces had foiled a raid on an industrial facility in the city of Isfahan. Videos on social media showed an explosion at the site.
"We strongly condemn any provocative action that could lead to an uncontrolled escalation of tensions in an already volatile region," Zakharova stated.
"Such destructive actions can have unpredictable consequences for peace and stability in the Middle East," the spokeswoman added. She said that the risks should be understood by those behind the attack, as well as "those who cheer on, with a futile hope of weakening Iran."
According to the Iranian Defense Ministry, the attack caused only minor damage, and there were no casualties.
No one has claimed responsibility for the incident. The Wall Street Journal and The New York Times quoted unnamed US officials as saying that Israel was behind the raid.
According to the Times, the Israeli intelligence agency, Mossad, orchestrated the attack. Israel has neither confirmed nor denied its involvement.
Iranian Foreign Minister Hossein Amir-Abdollahian said that the attack would not affect Tehran's nuclear program.
The attacks took place against a backdrop of US accusations that Iran has been supplying kamikaze drones to Russia for use in its military operation in Ukraine. The Kremlin, however, maintains that it has used only Russian equipment for strikes on Ukrainian targets.
You can share this story on social media: