US denies involvement in Iran strike
Several unidentified drones attacked a military workshop in the city of Isfahan over the weekend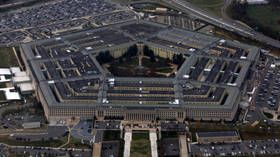 The Pentagon has denied that any US forces took part in a drone attack late on Saturday that damaged an Iranian defense ministry complex in the city of Isfahan, in the central part of the country. The statement follows reports that the US and Israel could have been involved.
According to the Iranian Defense Ministry, a number of drones targeted a military workshop, but air defenses successfully repelled the attack. It also claimed there were no casualties, and that the facility was continuing normal operations.
While Tehran stopped short of assigning blame, its foreign minister, Hossein Amirabdollahian, insisted that "a cowardly drone attack…will not impede Iran's progress on its peaceful nuclear program."
On Monday, Iranian news agency FARS released footage showing what looked like the debris of several small drones, which apparently carried out the attacks. The video also featured a slightly damaged building at the facility.
Speaking to Reuters on Sunday, Pentagon spokesperson Brig. Gen. Patrick Ryder claimed that no US military forces took part. He declined to say more about the incident.
Al-Arabiya TV channel reported, citing sources, that the US Air Force and "one more country" were involved in the attack, claiming that the drones targeted a ballistic missile depot.
The Wall Street Journal, meanwhile, cited "people familiar with the operation" as saying the strike had been orchestrated by Israel. The report also said that Jerusalem and Washington were looking for "new ways to contain Tehran's nuclear and military ambitions."
So far, no country has claimed responsibility for the attack. However, the incident comes amid heightened tensions between Iran and Israel over Tehran's nuclear program. Israeli officials have repeatedly warned that Iran is seeking to acquire nuclear weapons, an allegation Tehran has dismissed, arguing that its nuclear program serves only peaceful purposes.
Early on Monday, reports surfaced of another drone attack on a convoy of trucks said to be carrying food at the al-Qaim crossing on the Syria-Iraq border. The TV channel Al-Mayadeen reported that the strike targeted "three Iranian aid trucks loaded with flour and rice" and that "the convoy did not carry any weapons."
You can share this story on social media: