Fighting Russia 'very, very difficult' for Ukraine – top US general
While Kiev has vowed to seize huge tracts of what is now Russian territory, Moscow's forces have won a series of key battles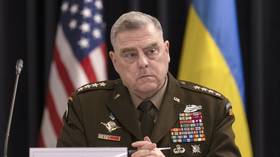 Ukraine will struggle to make good on its promise to drive Russian forces out of its former territory, US Chairman of the Joint Chiefs of Staff Mark Milley stated on Friday. While civilian officials in Washington insist that Kiev must keep fighting, Milley has repeatedly questioned the chances of success.
"President Biden, President Zelensky, and most of the leaders of Europe have said this war is likely to end in a negotiation," Milley said during a meeting of the US-led Defense Contact Group at Ramstein Air Base in Germany. "From a military standpoint, this is a very, very difficult fight," he added.
The US alone has allocated more than $110 billion in military and economic aid to Kiev since last February – supplying Ukraine with progressively heavier armaments, including infantry fighting vehicles, anti-air systems, and more than a million artillery shells.
Although Ukraine's NATO-trained troops appear on the cusp of receiving Western-designed main battle tanks, Russian forces have inflicted a series of crushing defeats on Kiev's military in recent weeks. The strategically important Donbass settlements of Soledar and Klescheevka have both fallen to Moscow's troops, and the key city of Artyomovsk is now facing Russian encirclement.
"I still maintain that for this year, it would be very, very difficult to militarily eject the Russian forces from every inch of Russian-occupied Ukraine," Milley said on Friday, referring to the four former regions of Ukraine that voted to join Russia in September, and Crimea, an historic Russian territory that voted to rejoin the Russian Federation in 2014. "That doesn't mean it can't happen, doesn't mean it won't happen. But it'd be very, very difficult."
Retaking all of this land – including Crimea – is the stated objective of Ukrainian President Vladimir Zelensky. To that end, he has the support of the US, with President Joe Biden and Defense Secretary Lloyd Austin vowing to bankroll his military for "as long as it takes," and Secretary of State Antony Blinken declaring in December that "fundamentally, Ukrainians are making the decisions" about whether they want to attempt to capture Crimea or not.
However, Milley's public statements have been more tempered than those of Biden and his cabinet. Asked in November whether Ukraine stood a chance of retaking its pre-February territory, he said that the probability of this outcome "is not high, militarily."
You can share this story on social media: