Ukrainian troops will train on German tanks – Kiev
Berlin will eventually be pressured into signing over the vehicles, officials believe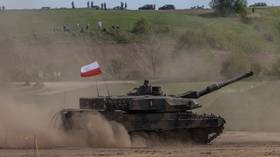 Ukrainian Defense Minister Aleksey Reznikov stated on Friday that his nation's forces will begin training on German Leopard tanks in Poland, despite the fact that Berlin and its NATO allies have not yet reached an agreement on supplying the tanks.
Speaking to US state media, Reznikov said that in addition to Poland, "countries that already have Leopard tanks can begin training missions for our tank crews."
"We will start with that, and we will go from there," he continued. "I hope Germany will follow their process, conduct their internal consultations, and will arrive at the decision to transfer tanks. I am optimistic regarding this because the first step has been made."
Reznikov spoke following a meeting in Germany of the US-led 'Defense Contact Group' – a panel of nearly 50 countries that meet regularly to pledge new arms packages for Ukraine. While US Defense Secretary Lloyd Austin used the occasion to pledge a fresh military aid package worth $2.5 billion to Kiev, Germany did not commit to supplying Leopard 2 battle tanks, or to allowing other European countries to export their own stocks of Leopard 2s to Ukraine.
Poland, however, has threatened to send fourteen Leopard 2 tanks to Ukraine even without Germany's permission. Although Berlin's consent is a legal requirement, Polish Prime Minister Mateusz Morawiecki declared on Wednesday that "consent is a secondary issue," and that his government would "do the right thing on our own" if necessary.
Reznikov is not the only Ukrainian official expecting Germany to eventually approve delivery of the tanks. "Germany will do it anyway at a later date," Ukrainian Foreign Minister Dmitry Kuleba told German TV earlier this month. "We have already seen this with the self-propelled howitzers, with the IRIS-T anti-aircraft system and most recently with the Marder and Patriot systems."
Whether the tanks make it to Ukraine or not, Moscow has said it is unconcerned. "Those tanks can burn and they will burn like the rest [of the Western weapons]," Kremlin spokesman Dmitry Peskov said earlier this week.
You can share this story on social media: