China warns West to stop creating 'imaginary enemies'
The US and Japan are the real security threat to the Asia-Pacific, Beijing insists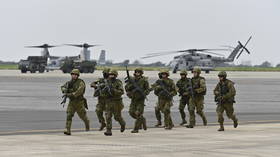 Washington and Tokyo need to abandon their Cold War mentality and stop inventing enemies in the Asia-Pacific region, Chinese Foreign Ministry spokesman Wang Wenbin said on Friday. He described a recent joint statement by American and Japanese foreign and defense ministers as containing "groundless smears and attacks" on China.
"We urge the US and Japan to abandon the Cold-War mentality and ideological bias, stop creating imaginary enemies and stop trying to sow the seeds of a new Cold War in the Asia-Pacific," Wang told reporters at a regular briefing in Beijing.
Wang's declaration came in response to the joint statement by the US-Japan Security Consultative Committee issued on Wednesday, which declared the alliance between Washington and Tokyo as "the cornerstone of regional peace, security, and prosperity."
The document states that China represents "the greatest strategic challenge in the Indo-Pacific region and beyond," and is signed by US Secretary of State Antony Blinken, Defense Secretary Lloyd Austin, Japanese Foreign Minister Yoshimasa Hayashi, and Defense Minister Yasukazu Hamada.
According to Wang, however, the US and Japan are instead "finding pretexts for military build-up and wilful use of force," creating division and confrontation.
"They claim to uphold the rules-based international order, but what they do is trampling on international law and the basic norms governing international relations and grossly interfering in other countries' internal affairs," Wang told reporters.
The Asia-Pacific is "an anchor for peace and development, not a wrestling ground for geopolitical competition," the Chinese Foreign Ministry spokesman insisted, adding that most of the countries in the world are "for justice and against hegemonism," preferring cooperation to confrontation.
Asked about Washington's publicly announced plans to restrict Beijing's access to semiconductor technology, Wang said China will "resolutely safeguard our own interests."
He accused the US of abusing export controls and weaponizing trade "in order to perpetuate its hegemony and selfish interests." This not only "severely violates market rules" but also disrupts international trade, he insisted.
You can share this story on social media: