Western sanctions reshaping global energy markets – WSJ
Russian oil is being rerouted to Asia, Africa and Latin America while Middle Eastern suppliers are boosting sales to the EU, the newspaper says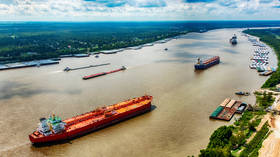 Western sanctions on Russian energy resources are triggering a shift in global oil and gas flows and disrupting long-standing economic ties around the world, the Wall Street Journal has reported.
An EU embargo on seaborne Russian crude took effect on December 5 along with a $60 price cap on oil exports, as part of a sixth package of Ukraine-related sanctions imposed on Moscow. A ban on EU imports of petroleum products such as diesel and kerosene originating from Russia will come into force on February 5.
The restrictions prompted Russia, once Europe's biggest supplier, to reroute its energy exports to India and China, where buyers are taking advantage of discounts that Moscow offers. Since late November, Russia has reportedly been selling its flagship Urals crude for $17 less than the cap, the WSJ reported, citing the International Energy Agency.
"Even if prices were to rise to $100 a barrel, China and India can continue buying Russian oil if they have access to their own insurance," the head of research at oil consulting company Energy Aspects, Amrita Sen, said.
Russia boosted oil deliveries to China by 17% in November from a year earlier to 7.81 million tons, the highest total since August, overtaking Saudi Arabia as the country's top supplier.
Moscow's shipments to India surged to 1.4 million barrels a day in November, compared to just 36,000 barrels a day a year earlier, according to commodity-data provider Kpler. Indian refiners are profiting from selling oil products made from processed Russian oil to energy-strapped Europe, enjoying an exemption allowed by the bloc's sanctions program.
Russian oil products have also been redirected to markets in Africa and Latin America, according to Russian Deputy Prime Minister Aleksander Novak.
Meanwhile Saudi Arabia, the United Arab Emirates and other major Middle Eastern energy exporters have shifted their focus away from traditional markets in Asia and are reaping the benefits from skyrocketing fossil fuel prices in Europe.
Saudi Arabia was the fastest-growing among other oil suppliers to the EU in the third quarter, with a 9.1% market share of the bloc's imports of the fuel, compared to an average of 5.1% last year, according to Eurostat.
For more stories on economy & finance visit RT's business section
You can share this story on social media: