Oil demand to surge this year – trader
An increasing number of power plants will be switching from gas to oil, Pierre Andurand says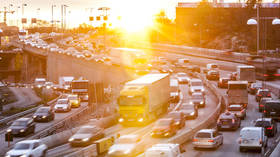 Global oil demand may rise sharply in 2023 if the world scraps the Covid-19 restrictions and lockdowns, says legendary hedge fund manager of Andurand Capital Management, Pierre Andurand.
According to the investor, the demand for crude could surge by an estimated 4 million barrels, or 4%, this year.
"What would a full China reopening mean for world oil demand growth? If demand came back to trend in 2023, that would mean a demand growth of 4.6 million barrels a day vs 2022, way above most analysts' expectations of 1-2 mbd... Overall, the potential to see a surge of oil demand of 3-4% sometime in 2023 is there, assuming the world reopens fully," Andurand stated. He added that he expects many power plants to switch from natural gas to oil this year, which would also lead to a rise in crude consumption.
Andurand noted, however, that the projected surge in oil demand would be limited by the growing popularity of electric vehicles, as EVs reduce fuel consumption by about 600,000 barrels a day.
Russia's military operation in Ukraine, which led to unprecedented Western sanctions on Moscow, "could impact global demand by up to 300,000 barrels a day," he said.
Other factors that may affect the demand for crude are changes in consumer habits, for instance, people choosing to work from home or cutting down on business trips. However, the impact of these trends on overall demand will be "marginal," according to Andurand.
Global oil prices briefly returned to growth in December when China relaxed its Covid-19 measures, but slid again on concerns that policy relaxation could cause a renewed outbreak.
Andurand is among the fund managers who cashed in on bets that supply-chain disruptions and the Ukraine crisis would cause higher prices in oil and other commodities. His main commodities fund was up about 50% last year.
For more stories on economy & finance visit RT's business section
You can share this story on social media: