Ukraine pressures Israel to 'take the right side'
President Zelensky's top aide has attempted a 'carrot and stick' approach with West Jerusalem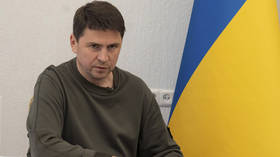 Mikhail Podoliak, the top aide to Ukrainian President Vladimir Zelensky, has urged Israel to overtly side with Kiev after the new foreign minister said he would "talk less" about the conflict and held a phone call with his Russian counterpart, Sergey Lavrov.
"You can talk less, but the main thing is to take the right side," Podoliak told Israeli outlet i24 on Thursday, insisting that Russia "started the war on its own initiative and without provocation."
"We need to talk a lot about this kind of war, because it is a genocidal war," Podoliak also said, seemingly contradicting his own argument.
Zelensky's outspoken adviser was reacting to remarks by Eli Cohen, Israel's new foreign minister, who said on Tuesday that the Jewish state intends to continue sending "significant humanitarian aid" to Ukraine but "talk less" in public about the "Russia-Ukraine issue."
Kiev's ambassador in Tel Aviv, Evgeny Korniychuk, swiftly complained about the perceived change in Israeli policy, pointing out that Cohen took a call from Lavrov while his predecessor had refused to do so.
"Israel is unique in terms of our partners. It remains silent," he told local media, asking for a direct condemnation of alleged Russian actions.
Podoliak took a different tack from the ambassador, complementing Prime Minister Benjamin Netanyahu as a potential go-between in eventual peace talks between Ukraine and Russia.
"I have no doubt that Netanyahu can be an effective mediator since he understands precisely what modern wars are and what is the essence of mediation under these conditions," Zelensky's adviser told i24.
"Israel, which is constantly in a state of war from various entities, has the basic principles of protecting its territory, its right, and its freedom. Therefore, it would be desirable to focus on supplying aid to Ukraine," he added.
He also argued that "it is not desirable" for Israel "to have relations with Russia with its current regime," both from the historical standpoint "and the point of view of the country's development in the future."
Ukraine has attempted for months to pressure Israel into sending it weapons, most of all the Iron Dome air defense system. In October, Korniychuk enlisted US assistance in the effort, but to little avail. The previous government said Israel simply doesn't have the industrial capability to do so.
You can share this story on social media: