Ukraine exacts revenge on Israel at UN – Axios
The media outlet claims Kiev refused to oppose a pro-Palestinian resolution after Israel declined to provide weapons to the country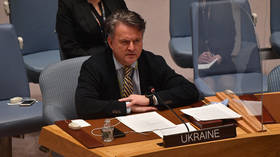 Ukrainian President Vladimir Zelensky has made his country's support for Israel at the UN contingent on the nation providing Kiev with air defense systems, the news website Axios has claimed. After not receiving any firm commitments from newly reinstated Prime Minister Benjamin Netanyahu, Ukrainian representatives allegedly opted not to oppose a recent anti-Israel resolution.
In its report on Saturday, Axios cited unnamed Ukrainian and Israeli officials as saying the two leaders held a phone conversation on Friday. Netanyahu supposedly asked Zelensky to vote against, or at least abstain from voting on a UN General Assembly resolution that called on the International Court of Justice to issue a legal opinion on Israel's occupation of the Palestinian territories.
That conversation was reportedly preceded by Kiev's refusal to oppose the document during a UN committee vote several weeks ago, according to Axios.
The article claimed that during the phone call, Zelensky made it clear that Ukraine could change its position if Netanyahu pledged military assistance to Kiev amid its conflict with Russia.
While Netanyahu allegedly said he was ready to discuss "Zelensky's requests in the future," the Israeli prime minister stopped short of making any firm commitment, Axios reported.
According to the outlet, the Ukrainian head of state was not satisfied with that response, and instructed his UN envoy not to attend the vote at all. A Ukrainian official claimed the decision was made "in order to give a chance to the relationship with Netanyahu," the US news outlet claimed.
Netanyahu's office confirmed to Axios that the phone call took place, but refused to provide details regarding its contents.
The UN resolution was adopted on Friday with the support of 87 countries. A total of 26 nations voted against, and 53 abstained.
In early November, then Israeli Defense Minister Benny Gantz explained that the country could not supply its Iron Dome air defense system to Ukraine as it did not "have a large enough production base" to satisfy an export market as well as its own needs.
Kiev has repeatedly requested military aid from Israel, with special emphasis on air defense. Ukrainian officials say the weapons would be a great help in the country's efforts to counter what it believes to be Iranian drones deployed by Moscow.
Both Russia and Iran, for their part, deny such UAVs are being used by Moscow's troops.
You can share this story on social media: