Biden talks to Zelensky ahead of big speech
Washington promises economic and humanitarian aid after Kiev asked for no-fly zone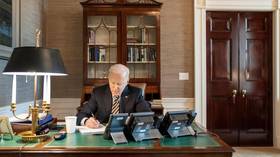 The US will continue sending weapons, money, and humanitarian aid to Ukraine, President Joe Biden told his colleague Volodymyr Zelensky in a call on Tuesday.
The White House did not address Kiev's calls for a NATO no-fly zone, which the US has openly rejected.
The White House readout of the Biden-Zelensky call said the two presidents discussed Washington's "continued backing for Ukraine," including "ongoing deliveries of security assistance, economic support, and humanitarian aid."
Biden also said the US was "working to hold Russia accountable, including by imposing sanctions that are already having an impact on the Russian economy." Last week, he said the sanctions were designed to have a long-term effect.
The US president is addressing Congress later on Tuesday in his first official State of the Union address since taking office.
Another topic that came up in the call, according to the White House, was "Russia's escalation of attacks on sites used by civilians in Ukraine, including today's bombing near Babyn Yar Holocaust memorial."
Zelensky had claimed in a tweet that a bomb dropped "on the same site of Babyn Yar," prompting some US outlets to report that Russia had bombed the memorial itself.
The Babi Yar memorial stands almost 1,000 feet (300 meters) away from the Kiev TV tower, which was hit earlier on Tuesday. Five people were killed in the strike, Ukrainian authorities said.
The Russian military had sent out a warning earlier that it would target strategically important communication nodes used by the Ukrainian military.
Babi Yar is the site at which Nazi soldiers repeatedly murdered Kiev's Jews during the Second World War, starting with almost 34,000 over two days in September 1941.
Moscow ordered troops into Ukraine last week to demilitarize and "denazify" the government in Kiev, citing the "genocide" perpetrated against the population of two breakaway regions of Donetsk and Lugansk and the presence of neo-Nazi militias such as the Azov Regiment in Ukraine's military. Kiev has condemned the attack as an unprovoked invasion, which has since been echoed by the US and its allies.
You can share this story on social media: