Pentagon confirms US position on Ukraine no-fly zone
Despite Kiev's request, Washington is not discussing a move that would put it at war with Russia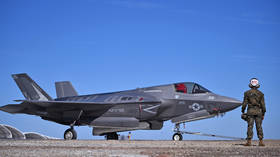 The US is not discussing establishing a no-fly zone over Ukraine, a senior Pentagon official told reporters on Tuesday, echoing the White House's earlier comments. Ukrainian President Volodymyr Zelensky had asked NATO for a no-fly zone on Monday, to help him defeat Russia.
The issue came up during an off-camera briefing on Tuesday, as the Pentagon shared its assessments of the ongoing conflict in Ukraine with reporters. The US military has previously said that it was not considering a no-fly zone over the country, as such a move would likely be considered an act of war.
White House press secretary Jen Psaki told MSNBC on Monday morning that a no-fly zone would require enforcement, meaning US and NATO planes patrolling the skies over Ukraine and shooting down Russian planes.
"That is definitely escalating and would potentially put us in a place in a military conflict with Russia. That's something the president doesn't want to do," Psaki said.
Later in the day, however, Zelensky once again requested just that, saying it would help Ukraine "defeat the aggressor with much less blood."

"We need the West to impose a no-fly zone over significant parts of Ukraine," Zelensky said in a statement posted online, saying it needs to happen in addition to anti-Russian sanctions and shipments of weapons to his government.
"Ukraine can beat the aggressor. We are proving this to the world. But our allies must also do their part," he claimed.
It wasn't just the US that rejected the idea, however. UK Prime Minister Boris Johnson, who went to Estonia to pose in front of NATO tanks, said on Tuesday that getting "involved actively in conflict with Russia is a huge step which is not being contemplated by any member" of the alliance, adding that a no-fly zone is "simply not on the agenda of any NATO country."
You can share this story on social media: