Giant container ship stuck in Suez Canal partially refloated in 1st step to unblock one of world's busiest waterways (VIDEO)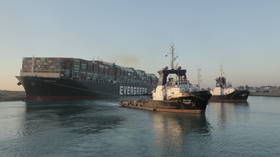 The skyscraper-sized container ship that has been lodged sideways in Egypt's Suez Canal for nearly a week was moved from the bank of the canal, but is not completely afloat yet, the ship's owner said.
A spokesperson for the Japanese firm Shoei Kisen Kaisha told AFP that its vessel, the Ever Given, was "stuck at an angle of 30 degrees towards the canal but that has eased," adding that the ship "has turned" but "is not afloat."
Leth Agencies, the company that provides logistics in the canal, reported that the ship has been partially refloated, pending official confirmation from the Suez Canal Authority (SCA).
SCA chief Osama Rabie said the Ever Given was "re-oriented 80% in the right direction," its stern having been moved 102m (335 feet) from the shore. He said the efforts to refloat the vessel will resume at the next high tide. Rabie told local media it will take around three and a half days to clear the traffic jam.
Data from ship-tracking websites Vessel Finder and Marine Traffic shows that a flotilla of tugboats succeeded in dislodging the ship from the banks.
Other vessels blew their horns in celebration when they heard that the Ever Given was being moved. Egyptian President Abdel Fattah el-Sisi responded to the news about the ship's partial refloating by thanking Egyptians for "succeeding in ending the crisis" in the canal and restoring operations to a "normal course."
It is unclear when the 360+ ships waiting in the massive traffic jam to sail through the canal will be given the green light to pass. Canal officials earlier refused to provide a definitive timeline for the freeing of the Ever Given.
Peter Berdowski, the head of dredging company Boskalis which is helping to salvage the ship, told Dutch NOS Radio 1 that freeing the Ever Given's stern from the mud and sand was the easy part, but completing the operation will not be a "piece of cake." Berdowski previously said that restoring traffic in the canal could take days or weeks, depending on the circumstances.
Earlier on Monday, the Suez Canal Authority reported that 10 tug boats would push and pull the Panama-flagged ship from four different directions at dawn, hoping to make use of high tide.
Also on rt.com
Egypt may offer discounts for ships left stranded by Suez Canal blockage
The blockage of the waterway, which accounts for about 15% of world shipping traffic, was estimated to incur a $400 million loss per hour due to delays. The incident also cost the canal up to $14 million in lost revenue daily. On average, 50 vessels pass through the narrow waterway connecting Europe to Asia per day.
Think your friends would be interested? Share this story!
You can share this story on social media: