Iran's supreme leader says trying to lift sanctions through talks 'was fruitless'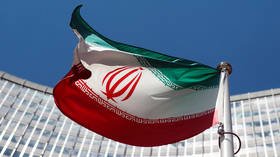 Supreme Leader of Iran Ayatollah Ali Khamenei has dismissed the "path of negotiations" with Western states to lift sanctions. However, the government in Tehran says foreign companies are already preparing to return to the country.
Speaking at the Supreme Council of Economic Coordination's meeting in Tehran on Tuesday, Khamenei said that the only way to counteract sanctions is to "nullify and overcome" them.
"We tested that way of lifting the sanctions through negotiations one time, but it was fruitless," the supreme leader stressed.
Western states "interfere in regional affairs, they tell us not to intervene," he said.
And while Britain and France have nuclear missiles, they tell us not to have missiles. What does it have to do with you? You should first correct yourselves.
Sanctions were "a crime committed by the US and its European partners," Khamenei said, adding that this "has intensified over the past three years."
Khamenei urged the nation to continue its resistance against sanctions, explaining that Iran's economic problem is not about what approach to take but is "diligence, courage and serious effort."
Also on rt.com
Tehran adds 'aircraft carrier warship' to Iran's navy amid rising tensions with Washington
Meanwhile, government spokesman Ali Rabiei told reporters on Tuesday that "recently, contacts about opening offices and the presence of foreign companies in Iran have increased."
He added that with the "lifting of the oppressive sanctions and the absence of [US President Donald] Trump, the presence of foreign companies and a willingness to invest in Iran will increase."
Iran signed a deal with world powers in 2015 to have international sanctions lifted in return for curbs on its nuclear program. But Trump abandoned the deal in 2018 and restored US sanctions against Iran, prompting Tehran to scale down its compliance under the agreement.
Trump's projected successor Joe Biden may move to rejoin the deal, but many doubt this could happen soon.
Think your friends would be interested? Share this story!
You can share this story on social media: