Canada loses bid for UN Security Council seat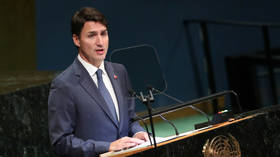 Canada has officially lost its bid for a seat on the United Nations Security Council, which it contested with Ireland and Norway, despite an extensive lobbying campaign led by PM Justin Trudeau.
UN officials met in New York to cast their votes on Wednesday. Canada, which under Trudeau has billed itself as a model of multilateralism and global citizenship, was pipped at the post by Norway and Ireland in a three-way race for two temporary seats at the UN's most powerful table.
Mexico and India were also assigned rotating seats on the council on Wednesday, with Kenya and Djibouti still battling over the final place. Meanwhile, Turkish diplomat Volkan Bozkir was elected president of the UN's 75th General Assembly. All new members will start their two-year term in January, and Bozkir's duties will begin later this year.
In a final push for the position, Trudeau touted Canada's record on climate change, international aid, and women's rights. He vowed to "continue to make a difference in the world and defend multilateralism," whatever the result of the vote.
Also on rt.com
If Canada wins a seat on the UN Security Council now, it's just another vote for Washington
The defeat came after a four-year, Can$2.3 million (US$1.7 million) charm offensive by the Canadian government. As part of the effort, UN diplomats were treated to a Celine Dion concert in Canada last year, and were wined, dined, and sent chocolates, according to the BBC.
However, even as Trudeau's government attempted to charm its way to the top, Canada's own citizens were reticent about the idea. A recent poll in the liberal-leaning Toronto Star found that an overwhelming majority of Canadians felt they didn't deserve a place at the table. Furthermore, Canada's support for the US position on Israel, in South America, on China, and on Saudi Arabia meant that had the country succeeded with its bid, it would offer little more than a rubber-stamp for Washington's foreign policies.
Also on rt.com
Trudeau's anti-Palestinian record & support for Israel is out of touch with what Canadians want – survey
Like this story? Share it with a friend!