'Arms embargo & commitment to ceasefire': Libya peace talks end on positive note in Berlin despite enduring disagreements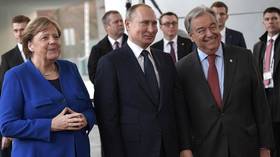 An arms embargo and a draft plan to work toward a lasting ceasefire to end Libya's years-long civil war has been agreed on in Berlin during a day of intensive peace talks, drawing on the process kickstarted by Russia and Turkey.
German Chancellor Angela Merkel and United Nations Secretary-General Antonio Guterres presented the results of the talks at a final press conference on Sunday evening.
Guterres told reporters that "all participants today committed to support the ceasefire," while Merkel announced that the warring sides in Libya's conflict agreed that an arms embargo is necessary to reach a lasting ceasefire.
Italian PM Giuseppe Conte said Italian was willing to play a leading role in monitoring the Libya peace accord. Italy is "absolutely available to be on the frontline" when it comes to monitoring the peace, he told reporters, although whether or not the warring sides agree to that is still unclear.
The conference in Berlin was tasked with reaching a lasting ceasefire between Prime Minister of the UN-backed Tripoli-based GNA, Fayez al-Sarraj, and Haftar, whose forces have been closing in on Tripoli in recent months.
Neither Haftar nor al-Sarraj were present in the room for the final press conference and Merkel said two men did not meet each other face-to-face during talks earlier either, with the chancellor hosting the rivals for separate discussions.
Merkel said the discussion in Berlin "will not solve all of the problems of Libya" but the talks were intended to "give new impetus" to the peace process. Libya descended into violence and chaos following the NATO's 2011 military intervention to oust longtime leader Muammar Gaddafi.
Also on rt.com
'Detailed proposals for Libyans to take up': Roadmap for settling every field of Libya war agreed in Berlin, Lavrov says
Guterres added that he was very worried that several of Libya's oil ports and an oilfield had been shutdown after Haftar's forces shut off production, a move which could badly impact the country's economy.
Merkel stressed that it is crucial that the arms embargo holds so that the truce can hold properly. Egypt and the United Arab Emirates, both allies of rival PM General Khalifa Haftar, have been providing weapons to the Libyan National Army (LNA), while Turkey has sent military instructors to the forces of Tripoli-based Government of National Accord (GNA) while threatening boots on the ground.
Also on rt.com
Putin & Erdogan set stage for Libya peace talks at Berlin meeting (VIDEO)
The peace conference in Berlin comes on the heels of earlier talks in Moscow, at which the leaders of the two warring Libyan parties agreed to discuss a ceasefire, a major development. That initial meeting, which involved Haftar and Saraj as well as Russian and Turkish foreign and defense ministers, lasted more than six hours but did not end in a signed agreement.
However, both the GNA and the LNA have for the most part respected the ceasefire called-for by Moscow and Ankara, prompting the leaders to be cautiously optimistic about the possibility of peace.
Think your friends would be interested? Share this story!
You can share this story on social media: