Suicide bomb attack hits outside largest US base in Afghanistan, Bagram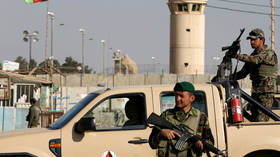 A powerful blast ripped through a medical facility outside Bagram Air Base, the largest US military installation in Afghanistan, killing two civilians and injuring dozens more.
The attack took place north of Kabul, just outside Bagram, and targeted an under-construction medical base being built for civilians, according to the NATO-led mission in Afghanistan.
Two locals were killed by the blast, TOLOnews said, citing officials. There have been varying reports on the number injured. The latest estimate is 73, mostly civilians.
There were no US or coalition casualties, Resolute Support said in a statement.
The Taliban has claimed responsibility for the attack.
Also on rt.com
Kabul blast targets UN vehicle, at least one 'foreigner' killed
If you like this story, share it with a friend!