Police find 'no sign of terrorism' behind stabbing attack on minors in the Hague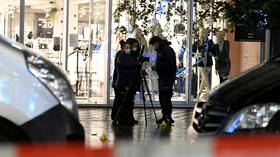 Dutch police say those injured in the stabbing assault in a shopping area in the Hague, since revealed to be underage, were not victims of a terrorist attack. The 35-year-old homeless suspect's motive is still being probed.
"Preliminarily there have been no signs found that would point to there having been a terrorist motive," the Hague police said. "What the motive was, then, is still being investigated."
Also on rt.com
The Hague stabbing suspect arrested, motive still unclear
The Friday attack, which left three teenagers injured, took place in the busy central Grote Marktstraat during the Black Friday rush.
Footage filmed by passers-by showed people running in panic, many of them confused as to what had actually happened. The street was soon cordoned off by police, but the suspect managed to escape.
Also on rt.com
'It was so scary': VIDEOS show shoppers flee from knife attacker in The Hague
Adding to the alarm was the fact that hours before the attack British-Pakistani terrorist Usman Khan stabbed two people to death and injured several more at London Bridge in London. Whether authorities are linking the two attacks has not been confirmed.
However, after the Hague suspect, initially referred to as a man of either North African or Middle Eastern origin, was on Saturday arrested at a homeless shelter, his motive did not immediately become any clearer. A police spokesperson has since rolled back the original description of the suspect, but did not offer a corrected version.
Also on rt.com
For 10 years you've done nothing! BBC host slams BoJo as PM reveals 74 convicted terrorists roaming UK streets
Police said they'll continue to interrogate the as-yet unnamed suspect.
Think your friends would be interested? Share this story!