3 killed as car bomb detonates near police station in Colombia amid anti-government unrest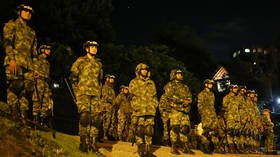 A truck rigged with explosives detonated outside a police station in Colombia amid mass protests in the country that have been marred by violence and looting.
The blast happened in Santander de Quilichao, a town some 500km from the nation's capital, Bogota.
Three police officers were killed and seven more wounded, the government secretary of the Cauca Department, Jaime Asprilla, said. Meanwhile, local media reported that at least 10 people were injured in the explosion.
Defense Minister Carlos Homles Trujillo condemned the "heinous terrorist attack," vowing to identify and punish the perpetrators.
Footage has circulated on social media showing firefighters arriving at the scene of the incident, with police sirens wailing in the background.
A graphic video posted online shows injured men wearing police uniforms being wheeled into hospital.
WARNING: GRAPHIC VIDEO
The explosion apparently was powerful enough to reduce a nearby building to rubble. A video has emerged showing locals and first responders sifting through the debris.
A photo purportedly captured inside the targeted police station shows the building's interior devastated by the blast.
There were also reports of a second explosion that ripped through the city on Saturday night."There were two explosions that were felt throughout the city, immediately the power went out and everything went dark... only the ambulances rushed towards the hospital," Alfonso Jose Luna from the local Proclama del Cauca newspaper told El Tiempo.
It's unclear who was behind the attack, and whether it is linked to a wave of protests over President Ivan Duque's austerity policies, which saw thousands of people taking to the streets on Thursday and Friday.
A police source speaking to Reuters said that law enforcement currently did not suspect any particular armed group was behind the attack. Cauca, however, is notorious for its drug trafficking and related violent crime.
Also on rt.com
Authorities impose curfew in capital of Colombia, deploy 20k police against protesters
Earlier on Friday, President Duque imposed an overnight curfew on the entire Colombian capital, Bogota, as 20,000 police clad in full riot gear were sent to patrol the streets after sporadic violence broke out on the sidelines of largely peaceful anti-austerity protests.
Rather than quell the unrest, the curfew was defied by hundreds of protesters who gathered in front of Duque's house on Friday night, banging pots and pans and chanting slogans.
Over 200,000 people rallied in Bogota on Thursday. Another 20,000 rallied in Cali, prompting local authorities to impose a curfew there.
There have been also reports of looting during the curfew. A video shows vandals hurling stones at a supermarket storefront in Bogota, and attempting to break in.
In a bid to diffuse the tensions, Duque on Friday promised to hold a "national conversation to strengthen the current social policy agenda" next week. However, his attempt to placate the protesters has apparently fallen flat so far.
Think your friends would be interested? Share this story!
You can share this story on social media: