Trump thanks Russia, Turkey, Syria, Iraq & Kurds for aiding US operation that killed al-Baghdadi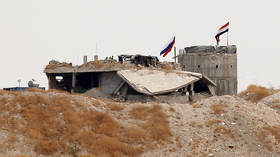 US President Donald Trump has tipped his hat to countries and groups that played a supporting role in a US military operation that killed Islamic State leader Abu Bakr al-Baghdadi.
Trump confirmed on Sunday that al-Baghdadi had been killed in a "daring nighttime raid" in Idlib, northwestern Syria. In a live address from the White House, the US president thanked Russia, Turkey, Syria, Iraq, and Kurdish forces for aiding the US operation.
He praised the "great cooperation" with Russia, which opened up airspace under its control to allow US warplanes and drones to use the area.
"Iraq was excellent," the president continued, before thanking Turkey for allowing US forces to fly in low and fast over its territory.
Also on rt.com
'He died like a dog, like a coward!' Trump describes GRAPHIC death of ISIS leader al-Baghdadi
Trump also thanked Syria's Kurds, who he said "gave us some information that turned out to be helpful." Until a ceasefire was called last week, Kurdish militias had been targeted by Turkish forces and their allied groups in northern Syria, while Trump was criticized at home from pulling US troops from the area.
Speaking following Trump's announcement, Kurdish military leaders told AFP that they now expect that Islamic State "sleeper cells will seek revenge for al-Baghdadi's death." The Kurdish-led Syrian Democratic Forces (SDF) holds more than 10,000 IS prisoners, a commander said, adding "this is why anything is possible, including attacks on prisons."
According to Trump, the secrecy of Saturday night's raid meant US helicopters needed to fly low to avoid detection. This low approach was made possible through coordination with other forces in the area, who were warned in advance of the incoming American troops.
Also on rt.com
ISIS leader al-Baghdadi killed in US raid in Syria, Trump confirms
Trump said that the Russians were notified of the flyover, but weren't clued in to the raid.
"ISIS fighters are hated as much by Russia and some of these other countries as they are by us," the president told reporters.
According to Trump, al-Baghdadi detonated a suicide vest after trying to flee through a tunnel with three of his young children. Although badly mutilated, Trump claimed that they were able to use tests to identify his body.
"He died like a dog, like a coward. The world now is a much safer place," the US president said.
Like this story? Share it with a friend!
You can share this story on social media: