Trump says 'major additional sanctions' on Iran to come Monday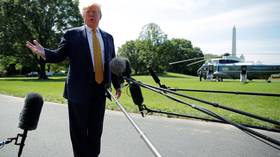 US President Donald Trump has said that "additional sanctions" against Iran are aimed at stopping the country from developing a nuclear bomb, but warned that military actions against Tehran remains on the table.
"We are putting major additional Sanctions on Iran on Monday," Trump wrote on his Twitter on Saturday afternoon. He immediately added that he looks forward to the day when "sanctions come off Iran, and they become a productive and prosperous nation again."
....Sanctions come off Iran, and they become a productive and prosperous nation again - The sooner the better!

— Donald J. Trump (@realDonaldTrump) June 22, 2019
"We're putting additional sanctions on. They're going on slowly and, in some cases, pretty rapidly, but additional sanctions are being put on Iran," the US president said earlier on Saturday, without specifying what the fresh round of restrictions were.
The US increasing pressure on Tehran is "not about oil," he insisted. "The fact is that we're not going to have Iran have a nuclear weapon. When they agree to that, they're going to have a wealthy country and I'm going to be their best friend."
Also on rt.com
Firing even one bullet at Iran will 'set fire' to US & allies, Iranian general warns
Trump told reporters on Saturday that it was important to "start over" on the Islamic Republic, and rephrased his own campaign slogan, saying: "Let's make Iran great again."
"Hopefully Iran is smart and cares about its people," he said, warning Tehran against any rash moves.
Trump also addressed the role of his national security advisor, John Bolton, who is believed to be the main advocate for using force against Iran. Bolton is "definitely a hawk," Trump reportedly said, adding that he is listening to "everybody" on Iran.
Leaving the White House, President Trump says he has confidence in his national security adviser and calls him "definitely" a "hawk." "John Bolton is doing a very good job, but he takes generally a very tough posture...But the only one that matters is me."

— Kaitlan Collins (@kaitlancollins) June 22, 2019
Early on Thursday, Iran shot down an unresponsive US Global Hawk surveillance drone. Tehran said the aircraft had violated its airspace, while the US insisted that the UAV was hit over neutral waters. On Friday, Trump said that he'd aborted a retaliatory strike against Iran – which he deemed not proportionate – just ten minutes before it was to be executed and signaled that he was open for talks with Tehran.
Also on rt.com
Iran will add to its 'collection of downed drones' if US border violations continue – IRGC commander
Think your friends would be interested? Share this story!
You can share this story on social media: