GoT petition to remake season 8 with 'competent writers' hits 1 million signatures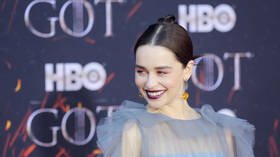 A change.org petition posted online by one extremely frustrated Game of Thrones fan has garnered over one million signatures as people clamber to share their despair over how the series' final season is turning out.
Based on the best-selling books by George R.R. Martin, the show is gearing up for its final episode. The series has proven an enormous success, generated a huge audience worldwide and becoming a franchise worth an estimated $1 billion.
Also on rt.com
Dracarys! Angry fans want to torch final 'Game of Thrones' season
The petition's creator, identified only as Dylan D in Fort Worth, Texas, admits it's beyond unlikely that HBO will actually succumb to their viewers' demands to rewrite and reshoot the entire last season, but says "As Heath Ledger's Joker once said, 'It's not about the money, it's about sending a message.' And I think this message is one of frustration and disappointment at its core."
The popular petition's creator insists he didn't start it "to be an entitled, whiny fan," but set it up simply "because I was immensely disappointed and needed to vent. Do I have a solution? I've got plenty of ideas, but no, I'm not a Hollywood writer. But you don't need to be a mechanic to know your car is broken."
Dylan wrote in an update post on the petition that he hadn't bothered to check in on it for days after starting until a colleague told him it had generated half a million signatures. It currently stands at well over one million signatures.
Sadly for Dylan and like-minded GoT fans, HBO has not commented on the petition or the prospect of an entire season re-make.
Also on rt.com
'Daenerys lost it in the end, I saw it coming from a while back' – GoT star Iwan Rheon to RT
Like this story? Share it with a friend!
You can share this story on social media: