Dracarys! Angry fans want to torch final 'Game of Thrones' season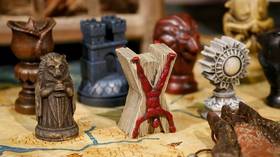 If you ever needed evidence that 2019 is seeing an unhealthy merger of culture with politics, almost a million fans angry over the final season of 'Game of Thrones' have now signed a petition to "remake" it.
The Change.org petition to "Remake Game of Thrones Season 8 with competent writers" has attracted over 850,000 signatures and counting, and at this rate will reach over a million by the time the series' finale airs on Sunday.
For those who have lived under a rock this past decade, 'Game of Thrones' (GoT) is an international cultural phenomenon, an Emmy-winning HBO show that premiered in 2011 and is currently on its last season, with one more episode to go.
To illustrate the show's impact, a recent survey by the Workforce Institute suggests more than 27 million Americans plan to watch the series finale, and over 10 million plan to be late, call out, or skip work on Monday to cope with the aftermath.
Also on rt.com
ICYMI: Game of War Zones: Trumpgaryans vs Iranisters
Based on the best-selling series of fantasy novels by George R.R. Martin, 'Game of Thrones' has been adapted for television by D.B. Weiss and David Benioff, previously best known for 2004's 'Troy.' Because the latest book in Martin's unfinished series came out in 2011, the year the show started airing, Benioff and Weiss have had to conjure the ending themselves. Their adaptation has drawn much ire from the fans of the books, even though Martin himself has been reportedly "heavily involved" in the show's production.
Now, however, legions of angry fans of the show are taking to a for-profit petition site and demanding that HBO remake the last season, because they are not happy with how the story turned out.
"I didn't make this petition to be an entitled, whiny fan," the initiator, who goes by Dylan, says in his explanation. "I made it because I was immensely disappointed and needed to vent. Do I have a solution? I've got plenty of ideas, but no, I'm not a Hollywood writer. But you don't need to be a mechanic to know your car is broken."
How's the petition work anyway? Will HBO just be like "oh ok let's do it!" Plus, all the actors, you think they're gonna screw over Weiss and Benioff and come back for season 8.2? This level of sense of entitlement is unbearable

— Drew McDonald (@DrewMcTweets) May 15, 2019
Audience entitlement is not a recent phenomenon. Back in 2009, fans frustrated with Martin's publishing pace were making such a racket on the internet that fellow novelist Neil Gaiman was prompted to write a now-legendary blog post declaring that "George R.R. Martin is not your b***ch."
What makes 2019 different, however, is that the sense of entitlement has grown exponentially, in tandem with the unprecedented politicization of culture. Remember the cringe-worthy "Pokemon Go-to-the-polls" moment from Hillary Clinton's campaign in 2016? Meanwhile, President Donald Trump is fond of using memes based on 'Game of Thrones' for his foreign policy, despite HBO grumbling about it.
Not only have people projected their own opinions, hopes, fears and aspirations into the show, but the social and political climate has changed so much since 2011, that 'Game of Thrones' is now being dragged for the same things it was once applauded for.
Also on rt.com
Undead army of the 'woke' will make sure GoT is the last show of its kind
Once upstream of politics, entertainment has become politics. This is why the fans disappointed that their beloved "khaleesi" turned out to be a dragon-happy Mad Queen have reacted to it politically, with a petition, even as they point out that shows like 'Game of Thrones' and movies like 'Star Wars' have been their escape from the politically-obsessed reality. The irony is so thick it can be cut with Valyrian steel.
The initiator of the 'Game of Thrones' petition is fully aware the petition won't change anything, and has said so. There are countless petitions on the for-profit Change.org, including the one about ending the Saudi-led war in Yemen, with over 700,000 signatures and zero effect. The only thing these petitions seem to accomplish is make the people who signed them feel like they've done something.
Meanwhile, King's Landing – and American politics – keep smoldering.
Nebojsa Malic, RT
The statements, views and opinions expressed in this column are solely those of the author and do not necessarily represent those of RT.
You can share this story on social media: