Massive explosion of Mexico's Popocatepetl volcano caught on VIDEO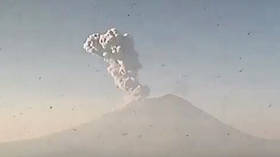 The active volcano Popocatepetl, located in Central Mexico, has emitted a large column of ash and smoke after a volcanic explosion rocked the fiery mountain.
The forceful blast rocked the Popocatepetl volcano on Thursday morning. As the very active volcano – and the second highest mountain in the country – is under constant surveillance, the moment of the eruption was caught on video.
The unrestful mountain emitted a large column of ash and smoke, that was some 1km high, according to local emergency services. The volcanic discharge is expected to fall in the southeastern direction, affecting a handful of settlements.
Popocatepetl, which literally translates from Aztec as "smoking mountain," has been very active over the past years, frequently emitting ash and spewing lava into surroundings. The most recent full-blown eruption occurred back in March, when the mountain emitted a whole cloud of hot gas and ash, that reached some 2,500 meters high.
Also on rt.com
Mexico's Popocatepetl volcano suffers largest eruption in years (PHOTOS, VIDEOS)
Think your friends would be interested? Share this story!