China strikes back at Trump's new tariffs, targeting $60 billion in US exports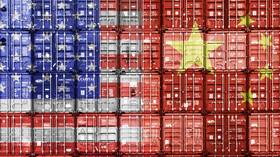 Beijing has retaliated against Washington's recent tariffs by imposing export levies targeting $60 billion worth of US goods, effective June 1, China's Ministry of Finance announced on Monday.
The tariff hike of up to 25 percent will affect more than 5,000 items imported from the US to China.
The step comes in response to the latest hike of export duties the Trump administration implemented on billions of dollars worth of Chinese products. Last week, the White House increased American tariffs on $200 billion worth of Chinese goods to 25 percent from 10 percent, previously.
Also on rt.com
US to face 'deadly punch' from 'kung fu master' China in response to trade war tricks – ex-official
Earlier, China's Foreign Ministry said that the country would never surrender to foreign pressure amid renewed threats from Washington to impose tariffs on all Chinese goods.
"China will never surrender to external pressure. We have the confidence and the ability to protect our lawful and legitimate rights," Foreign Ministry spokesman Geng Shuang told a daily news briefing on Monday.
The world's two biggest economies have been involved into a full-scale trade dispute over the past two years. In early 2018, US President Donald Trump accused China of stealing trade secrets, forcing foreign companies to hand over technology as the price of access to the Chinese market, while subsidizing its own tech companies. Trump has raised tariffs on Chinese goods in an attempt to narrow the trade deficit between US and China. Beijing has called the measure by Washington protectionism.
Also on rt.com
US raises tariffs on $200 billion worth of Chinese imports from 10% to 25%
Global stock markets tumbled on Monday on news of the Chinese response. The S&P 500 fell 1.46 percent, Dow futures dropped 1.36 percent while Nasdaq futures declined 1.99 percent.
Separately, Beijing reportedly threatened to single out US aircraft maker Boeing as part of the ongoing trade dispute. The news sent shares in the US aircraft manufacturer down more than three percent.
"China may stop purchasing US agricultural products and energy, reduce Boeing orders and restrict US service trade with China. Many Chinese scholars are discussing the possibility of dumping US Treasuries and how to do it specifically," Hu Xijin, editor-in-chief of state-run media outlet Global Times, said in a tweet.
For more stories on economy & finance visit RT's business section
You can share this story on social media: