US to face 'deadly punch' from 'kung fu master' China in response to trade war tricks – ex-official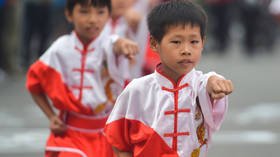 Beijing has various means to strike back at Washington's tariffs on Chinese goods amid mounting trade tensions and is ready to fight a "prolonged war," China's former vice minister of commerce has warned.
"China will not only act as a kung fu master in response to US tricks, but also as an experienced boxer and can deliver a deadly punch at the end," Wei Jianguo, who was responsible for foreign trade, told the South China Morning Post.
The ex-official outlined several spheres where China can hit hard. For example, one of US President Donald Trump's elections priorities, agriculture, including wheat, corn, and pork. Services may also fall victim of the simmering trade row, as China may impose sanctions against US finance, tourism, and cultural sectors.
At the same time, Beijing can target US plane and vehicle manufacturers, according to Wei. China was going to buy 100 Boeing 737 jets as part of an effort to meet US demands to cut the trade deficit.
Shortly before the two sides were to meet to discuss the trade agreement to avert an escalation of the conflict, Washington blamed Beijing for "breaking" the deal and raised tariffs on $200 billion worth of Chinese imports, threatening that more is to come. China responded that it would have to resort to countermeasures and said that it will not bow to any pressure.
The former vice minister stressed that the Trump administration's latest move was a mistake that can have tremendous consequences.
"If [the US] does not realize its mistake, it will create problems of a historic nature," Wei said.
China also holds a so-called "nuclear option" of dumping $1.2 trillion of US debt to financially attack America. Thus the market could be flooded with Treasuries, pushing down US bond prices and eventually increasing yields. That would make loans for US companies and individuals more expensive, negatively affecting US growth. However, analysts say that Beijing is unlikely to use this economic weapon for now.
For more stories on economy & finance visit RT's business section
You can share this story on social media: