'Do better': Gucci knocked on Twitter, accused of cultural appropriation over $800 turban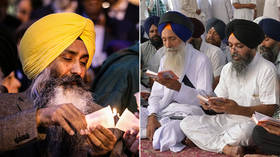 Gucci is under fire for selling a so-called 'Indy Turban' for a whopping $800, just weeks after the Italian fashion house was forced to recall 'blackface' turtlenecks after a huge social media backlash.
The luxury label was called out for 'cultural appropriation' when the headwear made its runway debut at Milan Fashion Week in February. However the criticism was stoked once again when high-end department store Nordstrom began selling the item for $790.
Both the fashion house and Nordstrom were lambasted on Twitter for belittling the religious significance of the Sikh turban, reducing it to nothing more than an overpriced headpiece.
READ MORE: 'Suicide is not fashion': Burberry apologizes for hoodie with noose at London Fashion Week
Nordstrom buckled to the criticism on Wednesday, announcing on Twitter that they will no longer be carrying the product in their stores or online. "It was never our intent to disrespect this religious and cultural symbol," read the store's apology.
Not everyone felt the particular style of turban was the "sole ownership of Sikhs", and explained the issues surrounding the headdress are complex given the history of the dastar and how many other cultures wear it.
The controversy comes just three months after the CEO of Gucci's parent company said the brand would focus on teaching staff about cultural sensitivity following a severe backlash for a 'blackface' sweater produced by the company.
Also on rt.com
Racist or no sense at all? Gucci withdraws women's jumper amid 'blackface' row
The fashion house went into full damage control, apologised for the offensive turtleneck which covered the lower portion of the face apart from a red lip cut-out, and pulled it from the shelves. Gucci have yet to comment on the latest debacle.
Gucci isn't alone in the fight to stay culturally sensitive. Katy Perry was forced to pull a selection of black shoes that featured a human face after they were slammed as being racially insensitive. Nike recently removed its all-white sneakers from a collection designed to be a celebration of Black History Month.
Like this story? Share it with a friend!
You can share this story on social media: