'We must be where Danes are': Danish MP reaches out to voters on Pornhub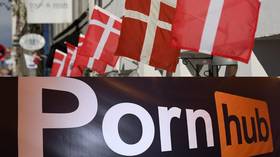 As Danes prepare to cast their votes in the June 5 general election, one lawmaker has found a shortcut to the hearts and minds of voters by placing his campaign ad on the popular adult website, Pornhub.
"We must be where the Danes are", MP Joachim B. Olsen said in an interview to Danish daily Politiken. Olsen is a member of libertarian party the Liberal Alliance, whose campaign banners now target Danish porn viewers.
The banner shows the smiling 41-year old politician with the text: "when you finish masturbating, vote for Jokke!"
Olsen admits on his Facebook page that there was "not much thought behind [the ad] – I just hope you had a good laugh."
The MP seems to have hit the right buttons if the reaction from his followers is any kind of indicator – his confession on social media has gained 1,300 likes and many positive comments.
"Joachim – it's nothing less than brilliant!" wrote one commenter. "That's good humor. Good luck with the election campaign," read a comment from another user. But the joke was still lost on some netizens. "Sick 'joke' for people with a clownish altitude to democracy," one person said of the idea, while another wrote: "Pornhub or the Liberal Alliance, they both f**k us."
Also on rt.com
Pornhub teases Tumblr takeover to restore former adult content 'glory'
Pornhub allows audiences to be targeted based on their interests. Olsen chose to place his ad in the "soft" category, saying that he and his campaigners "have tried to hit there, where Danes are the most."
If you like this story, share it with a friend!
You can share this story on social media: