Colombia harbors Venezuelan opposition, opens doors to defectors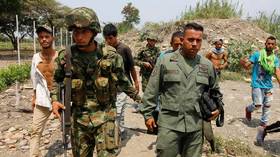 More than 1,400 defectors from the Venezuelan security services have been allowed to settle in Colombia, establishing an opposition presence in Washington's favorite Latin American client.
Under a new program, Bogota will provide legal residence, work permits and some job training to the defectors, the country's disaster management agency said on Tuesday. They will also receive basic medical care, and their children will be enrolled into Colombia's education system.
While the defectors make no secret about their desire to return to Venezuela to participate in an uprising, they've been largely confined to hotels in the border town of Cucuta, barred from crossing back into their home country. Some reportedly complain that the opposition has "abandoned" them.
Also on rt.com
US threatens Venezuelan military & intelligence with sanctions for their support to government
Bogota appears hesitant to allow an open armed presence within its borders and insists the defectors are peaceful, but the decision to let them in may have been influenced from abroad.
Long the largest US client in Latin America, Colombia receives hundreds of millions of dollars in US foreign aid each year, far above the regional average. Between 2000 and 2016 Congress appropriated some $10 billion in aid to Colombia, much of which goes toward drug interdiction and counterterrorism efforts.
Also on rt.com
Horrifying VIDEOS show RAMMING at Simon Bolivar bridge in Venezuela
Colombia's current president, Iván Duque, sits safely within the Washington orbit, having worked 12 years at the Inter-American Development Bank in DC and studied at an Ivy League school.
Throughout Venezuela's political turmoil, Bogota has marched lockstep with US policy and rhetoric, offering moral – and now financial – support to the opposition and demanding the abdication of Venezuelan President Nicolas Maduro. Colombia was one of the first to come out in support of the failed April 30 uprising, which fizzled after just a day of demonstrations.

Like this story? Share it with a friend!
You can share this story on social media: