US 'smart enough' not to want war against Iran unless Pompeo & Bolton get their way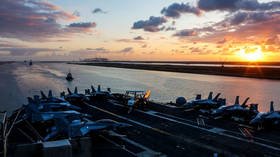 The US is "smart enough" not to ignite a war with Iran because it will push the world to the brink of economic disaster and lead to a shortage of oil. But Washington and Gulf hawks could get their way, an analyst told RT.
Tensions in the already troubled Persian Gulf ratcheted up again after the United Arab Emirates claimed that four commercial ships – among them two Saudi tankers – were targeted in what they loosely called a "sabotage operation." The UAE and Iran called to investigate the incident which is still surrounded by mystery.
But could the alleged "act of sabotage" be conveniently used to pin the blame on Iran – an arch-rival of many Gulf monarchies – and eventually become a prelude to military action against the country?
Also on rt.com
2 Saudi oil tankers targeted by 'sabotage' near UAE – energy minister
Some regional powers are eager to take aim at Iran but the US is not, believes Mohammad Marandi, a professor at the University of Tehran. "I think that the Israeli regime, the Saudis and the Emiratis are looking for a war but the US government doesn't want a war except for [John] Bolton and maybe [Mike] Pompeo," he told RT.
The United States knows that if there is a war, all the oil and gas [facilities] in the Persian Gulf and all the tankers will be destroyed.
These facilities are located close to each other which makes them especially vulnerable in case of war. If annihilated, they will not be rebuilt for years, plunging the world into "a great economic depression."
Also on rt.com
Tehran could attack Israel if US-Iran tension escalates – Israeli minister
It is "highly doubtful" that there will be such a conflict because "no one would win," including the US itself, Marandi reiterated. Instead, "the whole world would suffer as the result of a huge shortage of oil and gas – that would be very long-term."
The Americans are smart enough not to want a war, but there are [Iran-hostile] elements in the US government, the Saudi Arabia [sic], Israel and the UAE ... and therefore it would be very possible that they would carry out a false flag operation [outside Fujairah].
Washington has raised tension with Iran to new heights recently by deploying a number of warships, including an aircraft carrier and a landing dock, to the Middle East. But, Iranian leaders didn't believe that an open conflict between the US and the Islamic Republic could break out.
Major General Hossein Salami, the commander of Iran's elite Revolutionary Guards (IRGC), said that "the Americans have started a psychological war because the comings and goings of their military is a normal matter." Another senior IRGC officer, Amirali Hajiadeh, said such deployments are not a threat but an "opportunity."
"An aircraft carrier that has at least 40 to 50 planes on it and 6000 forces gathered within it was a serious threat for us in the past," he was quoted by the Iranian Students' News Agency (ISNA).
Think your friends would be interested? Share this story!
You can share this story on social media: