Tehran could attack Israel if US-Iran tension escalates – Israeli minister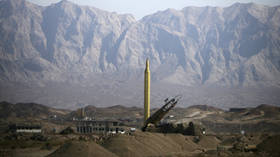 Israel could face an attack from Iran or its proxies in the region which might involve missile strikes or turmoil in Gaza if hostility between the Islamic Republic and the US escalates dramatically, an Israeli minister says.
Mutual enmity between Iran and the US is adding more volatility to the already unstable Middle East, and the brewing conflict may have an immediate impact on Israel, according to Energy Minister Yuval Steinitz. Speaking to Ynet news, he said that "things are heating up" in the Persian Gulf.
If there's some sort of conflagration between Iran and the United States, between Iran and its neighbors, I'm not ruling out that they will activate Hezbollah (in Lebanon) and Islamic Jihad from Gaza, or even that they will try to fire missiles from Iran at the State of Israel.
The story comes as the US is building up naval forces in the Gulf close to Iranian waters. Just recently, the Pentagon deployed the USS Abraham Lincoln carrier strike group and a bomber task force to the Middle East citing a threat to US interests from Iran
Announcing the deployment, National Security Advisor John Bolton raised the tensions to new heights when he threatened to use "unrelenting force" against Tehran. Secretary of State Mike Pompeo, another Iran hardliner, echoed Bolton's message and vowed a "swift and decisive" response to what he called "escalatory actions" by Iran.
Also on rt.com
1 missile can destroy 'billion-dollar fleet', Iran cleric says as US carrier sails to Gulf
Later it emerged that the decision to deploy these forces was made after a vague tip-off on a "credible threat" from Iran, which came from Israeli spy agency Mossad. The reliability of the intelligence is an open question, but Washington was nevertheless eager to use it.
The US has been parroting Israel's hardline policies towards Iran since Donald Trump took office in 2017, first by ditching the milestone 2015 nuclear deal and then slapping Tehran with further economic sanctions. In addition, Washington formally designated Iran's Revolutionary Guard Corps (IRGC) as a "terrorist organization," triggering a tit-for-tat response from Tehran.
Also on rt.com
US acted on vague Mossad tip-off when it sent strike group to Middle East – report
Like this story? Share it with a friend!
You can share this story on social media: