2 Saudi oil tankers targeted by 'sabotage' near UAE – energy minister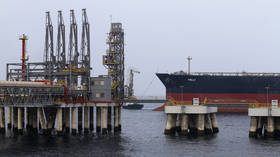 Saudi Arabia says two of its oil tankers were among the ships the United Arab Emirates earlier said were targeted in "sabotage operations" off its coast. The alleged attack damaged the ships, but caused no casualties or oil spill.
One of the two vessels was on its way to pick up crude for delivery to the US when it was hit, according to a statement by Saudi Arabia's Energy Minister Khalid al-Falih, carried by state broadcaster SPA. Earlier, the UAE said that commercial vessels were hit in "sabotage operations" near its waters, apparently referring to the same incident. Neither elaborated on the nature of the alleged sabotage.
Also on rt.com
UAE says commercial ships targeted by 'sabotage,' amid rising Gulf tensions
According to both Saudi Arabia and the UAE, the "sabotage" took place in waters near the emirate of Fujairah, in the Gulf of Oman just outside the Strait of Hormuz, the chokepoint for about a third of the world's oil tanker traffic, with Iran on one side and Saudi Arabia and the UAE on the other.
While much of what could happen outside Fujairah Port remains unknown, the timing for the alleged "sabotage attack" is particularly notable. Just recently, the Pentagon dispatched a carrier strike group and a bomber force, with Secretary of State Mike Pompeo vaguely citing some "escalatory actions" by Iran as a pretext for the deployment.
Iran's top military commanders, among them the head of the Revolutionary Guards Corps (IRGC), Gen Hossein Salami, said the deployments were part of a US plan to intimidate Iran. The IRGC commander said it was unlikely that the US wants a war against Iran as Washington lacked adequate military resources to do so.
Also on rt.com
'Our aim is not war,' Pompeo insists as US warships & bombers gather off coast of Iran
If you like this story, share it with a friend!
You can share this story on social media: