'Our aim is not war,' Pompeo insists as US warships & bombers gather off coast of Iran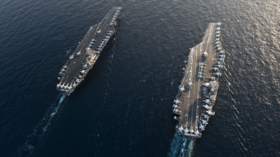 The US doesn't want war but reserves the right to surround Iran with warships and bombers just in case Tehran makes a "bad" decision that doesn't conform to Washington's interests, Mike Pompeo has boldly stated in an interview.
The United States would "of course" welcome the opportunity to negotiate with Tehran, US Secretary of State Mike Pompeo told CNBC on Saturday. However, a build-up of "deterrent forces" around Iran is necessary so that the US could respond if Iran "decided to come after an American interest – whether that be in Iraq, or Afghanistan, or Yemen, or any place in the Middle East."
He insisted that Washington has no interest in inflaming a new conflict in the region, but would still be prepared to act "in the event that the Iranians make a bad decision."
"We're not going to miscalculate: Our aim is not war, our aim is a change in the behavior of the Iranian leadership," Pompeo said.
Also on rt.com
US wages 'psychological war' against Iran – Revolutionary Guards chief
Apparently as a behavior-changing incentive the US deployed the USS 'Abraham Lincoln' Carrier Strike Group as well as a bomber task force last week. US National Security Advisor John Bolton said that the move was designed to "send a clear and unmistakable message to the Iranian regime."
The Pentagon also announced that a battery of Patriot missiles and the transport ship USS Arlington are being deployed to the region "in response to indications of heightened Iranian readiness to conduct offensive operations against US forces and our interests."
While the US military has become a semi-permanent fixture in the Persian Gulf, it's unusual for Washington to call out Iran by name when justifying such deployments. On Sunday, the head of Iran's elite Revolutionary Guards, Major General Hossein Salami, described American activity in the region as a "psychological war."
Also on rt.com
1 missile can destroy 'billion-dollar fleet', Iran cleric says as US carrier sails to Gulf
Still, Pompeo stressed that he would "welcome" a call from Tehran, but that sanctions and American military posturing would continue unless the Iranian government "changes its behavior."
As an example, the Secretary of State claimed that Hezbollah, a militant group backed by Iran, is now operating in Venezuela – another country in Washington's crosshairs. Pompeo has yet to provide evidence substantiating the Hezbollah-Venezuela link which he so often speaks out.
Venezuela itself has been exposed to Washington's unique form of diplomacy: A US Coast Guard vessel was instructed to turn back after traveling towards Venezuela's territorial waters. A patrol boat was dispatched by the Venezuelan Navy to discourage the US ship from encroaching further. Caracas has been faced with a crisis since January, when US-backed opposition leader Juan Guaido declared himself interim president.
Like this story? Share it with a friend!
You can share this story on social media: