US Secretary of State Pompeo to meet Russia's President Putin & Foreign Minister Lavrov on May 14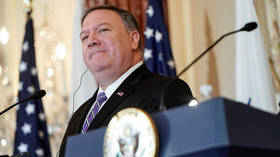 US Secretary of State Mike Pompeo is to meet Russian President Vladimir Putin and Foreign Minister Sergey Lavrov when he travels to Russia next week, the US State Department said in a statement.
The visit comes as relations between Moscow and Washington are at a new low over accusations of Russian meddling in US elections, disagreements over approaches to Venezuela and Iran's nuclear program, as well as the US ditching the Intermediate-Range Nuclear Forces (INF) Treaty followed up by Russia suspending its participation.
On May 13, the Secretary of State will visit the US embassy upon his arrival to Moscow as well as meet with the US business leaders and exchange program alumni to hear their thoughts on the issue of US-Russian relations. The State Department also said he will discuss "the full range of bilateral and multilateral challenges" with Lavrov and Putin during a meeting in the southern city of Sochi on May 14.
Also on rt.com
Did Pompeo and Lavrov discuss 'Russian meddling'? Depends on who you ask
Pompeo met Lavrov in Finland earlier this week at the Arctic summit.
"An issue high on the agenda for their discussions will be arms control," the State Department said, adding that the US President Donald Trump would like to work out new arms control agreements that would "reflect modern reality" by including a "broader range of countries and account for a broader range of weapon systems than current [US] bilateral treaties with Russia."
The US pulled out of the INF arms control treaty with Russia in February. Trump said last week that he and Putin discussed the possibility of making it a "three-way deal" with China, adding that Beijing "would very much like to be part of that deal." Moscow repeatedly said it was ready for talks but it was the US who shied away from the negotiations.
Also on rt.com
MSM melts down as Trump talks Venezuela with Putin… and 'feels same way'
Even though it was Washington that was the first to pull out from the INF, the State Department statement also bluntly said that "the Secretary will have a very candid conversation about concerns in our bilateral relationship, including Russia's breach of longstanding arms control agreements like the INF."
Washington also could not help but once again state that "no administration has been tougher than the Trump administration in imposing costs on Russia for its malign activities," as the Russian meddling scandal has been omnipresent on the American political arena and one of the major tool used by the Democrats in their political fight against Trump.
At the same time, the US also said it would strive to "find ways to cooperate [with Moscow] in pursuit of shared interests." Washington particularly hailed Russia's role in the Afghan peace process and its cooperation with the US in the field of counterterrorism.
Also on rt.com
Pompeo threatens 'swift and decisive' response to any attacks by Iran or its 'proxies'
Earlier this week, Lavrov also said that cooperation between the US and Russia could have "a very significant and positive role" in resolving most international issues. The Russian minister also noted that it is important to build this joint work on finding common solutions while avoiding one-sided approaches, which are often lobbied by Washington.
Ukraine, Venezuela, Iran, Syria, and North Korea were also all listed as topics that are expected to be discussed during the negotiations in Sochi. Trump talked to Putin on the phone for an hour last Friday, discussing a wide range of issues, including Venezuela, North Korea and nuclear arms control.
Also on rt.com
Russia is not an enemy of the US, but it will not be banging on a locked door – Putin
Last week, Washington's protégé and opposition leader Juan Guaido failed to get enough support to oust Venezuelan President Nicolas Maduro. The US blamed Russia partially for the coup's collapse and urged Moscow to stay out Venezuela. Lavrov slammed Washington's "unprecedented campaign to oust the legitimate government" and once again called for a political solution to the conflict.
This week Iran has announced a suspension to some of its obligations under the landmark agreement – officially known as the Joint Comprehensive Plan of Action (JCPOA) – after Washington piled up a series of sanctions on the country and sent an aircraft carrier group & task force to the region to send a message. Moscow said Tehran's reaction was understandable, and urged Tehran and European countries to fulfill their obligations.
Like this story? Share it with a friend!