'Heavy barrage of rockets': IDF says 200 missiles launched from Gaza, dozens intercepted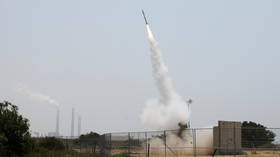 A "heavy barrage" of rockets has been launched at the territory of southern Israel, the country's defense forces (IDF) said in a tweet, claiming the projectiles were fired from Gaza.
Israel swiftly retaliated against the attack, targeting Gaza with airstrikes and tank fire. The IDF said that it hit more than 30 targets of Hamas and Islamic Jihad militant groups in the enclave.
Amid the outbreak of violence, Israel closed the Kerem Shalom and Erez crossings into Gaza and suspended all fishing off the Gaza coast.
Also on rt.com
3 killed, including infant & pregnant woman, as IDF unleash retaliatory strikes on Gaza – officials
A smaller Palestinian armed group said that one of its fighters was killed in an IDF airstrike, while the Gaza Health Ministry reported at least six people were wounded.
Warning sirens blared in Israeli border communities on Saturday morning amid reports of multiple projectiles being launched from Gaza. The Israel Defense Forces (IDF) said the attack lasted for 10 minutes.
Heavy barrage of rockets being fired at southern Israel from #Gaza for the last 10 minutes. Updates to follow.

— Israel Defense Forces (@IDF) May 4, 2019
Residents in the towns of Ashkelon and Ashdod reported hearing blasts in the area. Meanwhile, several rockets were intercepted by the Iron Dome above Ashkelon, the Jerusalem Post reported, citing local authorities. The IDF also posted footage apparently showing the "incoming" missiles.
200 rockets have been fired at Israel, the IDF claims.
The rocket attack left a 50-year-old woman severely wounded near Ashkelon, according to Israeli media. One Palestinian was killed and four were injured as Israel responded with airstrikes and tank fire, local health authorities reported.
The launches come one day after two Israeli troops were shot and injured during patrol along the border in Gaza. In response to the shooting, the Israeli Air Force bombed a Hamas target, killing two people.
Also on rt.com
Israel strikes Gaza Strip, killing 2, after tense border clashes during 'Great March of Return'
Hamas confirmed they were members of its military wing and pledged to respond to what it called "Israeli aggression." In a threat delivered through social media, the group said that it will respond "to the crimes of the occupation and the killing of our people."
Think your friends would be interested? Share this story!
You can share this story on social media: