Julian Assange extradition to US case adjourned until May 30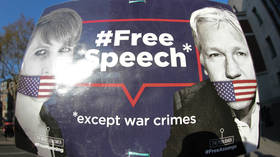 The case regarding the possible extradition of WikiLeaks co-founder Julian Assange has been adjourned until May 30. It comes after Assange was given 50 weeks in jail for skipping bail in the UK.
Assange himself was not present in the courtroom, appearing via a video link from a British prison instead. When asked if he desired to be extradited to the United States, he said he did not wish to surrender to extradition.
"I do not wish to surrender myself for extradition for doing journalism that has won many many awards and protected many people," Assange told the court.
Also on rt.com
Assange extradition process is 'life & death' for him and for journalism itself – WikiLeaks' editor
For now, he has been charged with conspiracy to commit computer intrusion for his work with whistleblower Chelsea Manning. The offense carries a maximum penalty of five years, yet additional charges against Assange are feared.
The hearing was held a day after Assange was slapped with a 50 week jail term for skipping bail in the UK back in 2012. The unusually lengthy sentence for such an offense drew widespread condemnation, with WikiLeaks representatives and Assange's legal team blasting it as "vindictive and shocking."
Activists fear that Assange's activities might be prosecuted under the Espionage Act – a WWI-era law that criminalizes disclosure of information potentially damaging to national security, basically, dirty government secrets. The legislation includes lengthy prison sentences and even the death penalty.
Also on rt.com
'A complete scandal': WikiLeaks supporters slam Assange's 50 week jail sentence for bail violation
The usage of the antiquated law against people leaking information to reporters has been on the rise in recent years. Manning, who obtained scores of classified materials on the Iraq War – including the infamous 'Collateral Murder' video – has been prosecuted under the Espionage Act as well, along with other charges.
Think your friends would be interested? Share this story!