Yellow Vests & Black Blocs? France braces for possible protest perfect storm on May 1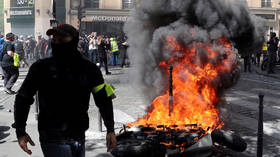 Labor Day is the traditional date for mass protests in France, occasionally quite violent. This year the authorities fear a confluence of the radical part of the Yellow Vest movement with the dreaded Black Bloc anarchists.
On Monday evening, Didier Lallement, the freshly-appointed head of the Paris police, held a high-profile meeting with several other security-related officials to discuss the measures that need to be taken before, and on, May Day. DSPAP, the largest department of the capital's police force, released a memo detailing preventive action against possible rioting on Wednesday, according to Libération. The special focus will be on trains arriving in Paris.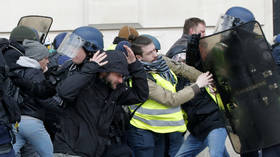 The French authorities are concerned that mass demonstrations on Labor Day will escalate due to a "yellow and black wave," a possible alliance between the domestic Yellow Vests movement and international anarchists from the so-called 'Black Blocs'. If it happens, the result may pale last year's upheaval, which resulted in over 200 arrests in Paris.
Also on rt.com
May Day riot in Paris: Masked protesters torch cars as police deploy tear gas & arrest 200+ (VIDEOS)
Yellow Vests, or 'Gilets jaunes' in French, have been staging anti-government protests for 24 consecutive weeks, objecting to austerity policies of President Emmanuel Macron. 'Black blocs' is a term used for a ragtag alliance of anti-capitalist and anarchist activists, who wear black clothes and masks to conceal their identities and typically join rallies staged by other groups to engage in vandalism of businesses and clash with the police.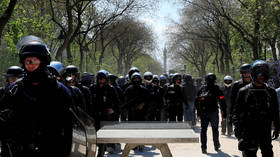 The fear is partially fueled by the public support voiced by some prominent figures among the Yellow Vests in the run up to May Day. The date was also portrayed as a key moment for their cause by many supporters. This may sound ominous considering Yellow Vests' rejection of concessions offered by the government and a record of rioting in the previous weeks.
Also on rt.com
Yellow Vests take to the streets in rejection of Macron's 'rubbish' olive branch (PHOTO, VIDEO)
The French authorities toughened up laws on public demonstrations in response to the weekly protests, banned gatherings in some parts of Paris and imposed additional security measures on Saturdays, when the demonstrations usually happen.
Ahead of Labor Day, some French politicians like MP Eric Ciotti argued that Black Blocs should be preemptively banned, Le Figaro reported. The daily said while the sentiment was hardly new, such a ban would be difficult to implement in practice due to the nature of the anarchist movement. They are not an organization that can be denied a permit to rally. They have no definitive leaders to slap them with a restriction order. And they have shown the capacity to adapt to whatever response law enforcement prepares against them.
If you like this story, share it with a friend!
You can share this story on social media: