'A complete scandal': WikiLeaks supporters slam Assange's 50 week jail sentence for bail violation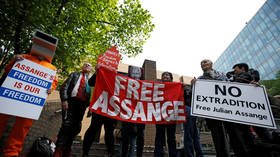 News of Julian Assange's harsh sentencing for skipping bail has been met with condemnation and outrage online, with WikiLeaks slamming the punishment as being as "shocking as it is vindictive."
The WikiLeaks founder was sentenced by the Southwark Crown Court to 50 weeks for "violating bail conditions" in 2012, when he sought asylum in the Ecuadorian embassy to avoid extradition to Sweden where he feared being extradited to the US.
Also on rt.com
Julian Assange sentenced to 50 weeks in jail for jumping bail in UK
Assange is also facing a court hearing on extradition to the US where he faces charges of "conspiracy to commit computer intrusion," over allegations he may have tried to help whistleblower Chelsea Manning who leaked documents that were published by WikiLeaks.
Supporters expressed outrage at the harsh sentencing, which is just two weeks shy of the maximum sentence that can be applied. WikiLeaks said it has "grave concerns as to whether he will receive a fair extradition hearing in the UK."
Assange sentence raises serious issues. It dismisses the UN determination on arbitrary detention as "not binding on this court" & containing "misconceptions". If UK judiciary has been captured by the state, that is the very definition of authoritarianism.https://t.co/xZeGPbaxlx

— Mark Curtis (@markcurtis30) May 1, 2019
50 weeks for violating bail over an investigation that was dropped and never lead to charges. There is absolutely no way that Assange is going to get a fair extradition hearing. This is insane.

— Cassandra Fairbanks (@CassandraRules) May 1, 2019
Julian Assange's sentence is as shocking as it is vindictive. We have grave concerns as to whether he will receive a fair extradition hearing in the UK.

— WikiLeaks (@wikileaks) May 1, 2019
Many voiced concerns that Assange's long prison sentence and the conditions he will be imprisoned under will make preparing for his extradition case difficult.
the UK authorities contributed to create the legal-diplomatic quagmire which kept Julian #Assange arbitrarily detained for 9 YEARS,they opposed Swedish prosecutors dropping the case in 2013, they destroyed the documents, now they jail Julian #Assange. This is a complete scandal

— stefania maurizi (@SMaurizi) May 1, 2019
With a fifty week prison sentence, high security prison conditions, Julian's ability to prepare for US extradition legal case is severely hampered. Which is obviously the purpose of the savage fifty weeks. Alongside keeping him silent. Our regime fears the truth.

— Wandsworth (@Skool_Dog) May 1, 2019
50 Weeks. 50.After spending 7 years in arbitrary detention, #JulianAssange has just been sentenced to a further 50 weeks in prison for escaping a witch hunt designed to kill him, investigative journalism, Wikileaks and whistleblowing.This is fascism. And I am fucking angry.

— Gordon Dimmack (@GordonDimmack) May 1, 2019
A letter Assange wrote was given to the judge in court, which said he apologized for the way he pursued his case, saying he faced "difficult circumstances."
"It's difficult to envisage a more serious example of this offense," Judge Deborah Taylor said, accusing Assange of "deliberately" putting himself out of reach and of exploiting his "privileged position to flout the law." Meanwhile, the US request to extradite Assange from the UK is due to be heard on Thursday.
Assange Sentenced 50 Weeks For Bogus Bail Charge"We can't rely on the legal system to sort this one out, because, as we've seen today, the legal system can very easily be manipulated to serve the interests of the powerful."#FreeAssange#NoExtraditionhttps://t.co/OxE3UZUnG4

— Caitlin Johnstone ⏳ (@caitoz) May 1, 2019
This tweet basically sums it all up. Because Julian Assange revealed more truths than anyone ever has, the powers that be view his "case" as the worst transgression imaginable.It was in fact the greatest public service imaginablehttps://t.co/wiGdyWviGd

— Suzie Dawson (@Suzi3D) May 1, 2019
What we are seeing is democratic institutions destroying their own credibility in order to counter the threat of Internet-driven transparency. Media orgs following the same route to either dystopia or oblivion. A complete scandal indeed. #FreeASSANGEpic.twitter.com/lXPnRTFBUa

— Ruled By Criminals (@jaraparilla) May 1, 2019
Think your friends would be interested? Share this story!
You can share this story on social media: