Safety optional? Boeing told Southwest 737 MAX alert feature NOT ON by default after Indonesia crash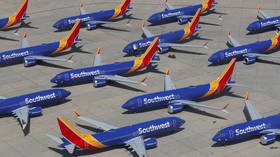 Southwest Airlines, the largest Boeing 737 MAX customer, says Boeing told them a standard flight angle alert system had to be bought separately to be activated, contradicting the manual – and only after the deadly Lion Air crash.
The system in question, officially known as the angle of attack (AOA) disagree light, is basically an indicator at a plane's control board. The light is expected to go on whenever the aircraft's nose pitches up or down too far, warning its pilots of a potentially dangerous situation.
Such a light was a standard issue on earlier models of Boeing planes, and was expected to work in the same manner on the ill-fated MAX 737 planes – except it wasn't – instead coming as part of an additional indicator package. When the new planes were delivered to Southwest Airlines, the "lights were depicted to us by Boeing as operable on all MAX aircraft" regardless of purchasing the add-on, the airline operator said in a statement. The manual for the aircraft showed that as well, the company said.
After the first deadly crash of a 737 MAX plane in October, operated by Indonesia's Lion Air, Boeing notified Southwest that the indicators were actually not working by default. The company then promptly installed the optional package that made the warning lights function as the Southwest pilots had expected.
Boeing, in a statement to CNBC, said the disagree lights would in the future be included as a standard feature – that is if the grounded jet returns to operations.
"As we return to service, all customers will have the AOA disagree alert as standard and have the option to include the AOA indicator at no cost," a Boeing spokesperson said. "This change will be made to all MAX aircraft – production and retrofit."
Southwest's revelation adds a new twist to the scandal around the ill-fated 737 MAX 8 aircraft. Planes of this type were grounded following the Lion Air and Ethiopian Airlines crashes that killed over 300 people combined in less than six months.
Also on rt.com
Sales before safety? Boeing MAX affair exposes US corporate sector, as company braces for fallout
Both fatal accidents occurred shortly after takeoff and have been linked to the 737 MAX's Maneuvering Characteristics Augmentation System (MCAS) that can automatically lower an aircraft's nose if it deems stalling to be imminent. The flight system itself is crucial in making up for the jet's controversial design, which shifted the airplane's balance with larger and more powerful engines and made it prone to sudden stalls.
Like this story? Share it with a friend!
You can share this story on social media: