Sales before safety? Boeing MAX affair exposes US corporate sector, as company braces for fallout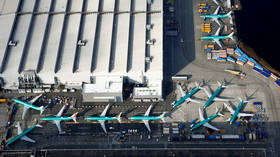 The Boeing 737 MAX 8 affair has exposed rushed decision making and questionable certification practices, aviation experts told RT, adding that such a market-driven approach where sales come first plagues all of American society.
This week, the Boeing corporation admitted the faulty 737 MAX 8 MCAS maneuvering system contributed to two fatal crashes – in Indonesia last October and in Ethiopia this March. The accidents killed over 300 people combined. Aside from that, the Federal Aviation Administration (FAA) admitted it actually delegated the review of the system to the company itself. Now both the company and the watchdog brace for consequences – and they will likely be quite heavy, experts believe.
The Boeing corporation "should definitely be liable for an exemplary judgement" over the 737 MAX scandal, an independent international affairs and aerospace industry analyst, Alessandro Bruno, believes.
"[Boeing] cut corners in the design of the airplane to accommodate a larger engine, which changed an aerodynamic performance of the aircraft and it used an electronic sensors and software to correct for this aerodynamic difference without really letting the pilots know – or the airlines," Bruno told RT.
One of the reasons for that was such as that plane could have been certified quickly and sold just as another Boeing 737, which would allow the pilots and airlines to operate it without having to take retraining.
If such allegations are proven to be true, the company will likely face very heavy consequences, aviation lawyer Ron McCallum said.
"If evidence emerges that Boeing engaged in such conduct in an effort to deliver the aircraft to these airlines in a hurried fashion and it intentionally or negligently skipped key safety and software testing and certification in terms of the MCAS system, I could see a high likelihood that Boeing will suffer punitive damages in the litigation that has already begun," McCallum told RT.
While the scale of the scandal itself is too large for Boeing to get away lightly, another circumstance makes it even worse for the company, Bruno believes. The Ethiopian crash killed Samya Stumo – a grandniece of a prominent consumer protection activist and attorney Ralph Nader.
"Ralph Nader – we can consider him as the inventor of a lawsuit against a corporation," Bruno stated. "He's the one responsible for Ford stopping production of Ford Pinto, that had an exploding gas tank. Ralph Nader literally wrote a book on how to sue companies and corporations."
I think, he's going to play a big role in making sure that Boeing pays a very hefty fine.
Also on rt.com
'Sorry for lives lost': Boeing admits faulty system part of 'chain of events' in 737 MAX crashes
'Putting sales and growing stocks before safety'
The Boeing 737 MAX scandal will also have heavy repercussions for the Federal Aviation Administration (FAA) which delegated a review of the plane's new 'safety' system to the company itself, Bruno believes. The fallout of the whole affair might also affect other US government agencies – and the whole system – as well.
"I think the FAA will also be under scrutiny. Perhaps in this case it was not so much the fault of the individuals, but the government cuts. I'm sure the FAA is also under financial pressure, with fewer people working and doing the checks and spending less money," Bruno said, adding that other agencies, that imposed such a work mode on the FAA should also be held responsible.
McCallum, however, doubts that the Boeing 737 MAX affair would somehow affect the FAA as a whole, given how the US government system works.
"The FAA is a governmental body and as such, is generally immune from civil litigation and civil penalties. The individual employees however may be sued. The Department of Justice defends wrongful death, personal injury, and property damage lawsuits that arise out of the alleged negligence or other tortious conduct of FAA employees," McCallum told RT.
The Boeing 737 MAX affair has exposed a system problem of the whole US corporate sector – putting sales and growing stocks before anything else. Such a "market-oriented" approach affects younger generations of managers and CEOs in particular – since they are paid in stocks and growing sales directly affects their personal fortune, Bruno said.
"There's another, bigger issue there that, unfortunately, cannot be sued. What's happening at Boeing is reflective of what is happening in American society. Many of the managers, that made Boeing great, the old-style managers who are probably in their 60s and 70s now, have retired. They were engineers, scientists, they were people who did not look at the financial cost," Bruno said.
"The latest generations of managers, especially from the 1990s, [are] influenced by the pressures of the market. Everything is the market. People are encouraged to take MBA's, engineers – who are great scientists have to become business people. So they look at the bottom line, at the numbers and financial costs and they are cutting corners, they are not considering safety."
Also on rt.com
Airline regulators knew about Boeing 737 MAX nosedive issue 2yrs ago
Like this story? Share it with a friend!
You can share this story on social media: