FAA sets up joint task force to rebuild trust in troubled Boeing 737 MAX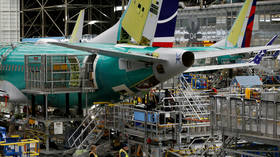 The US Federal Aviation Administration has announced it will establish a Joint Authorities Technical Review team in partnership with NASA and international watchdogs to ensure the safety of the Boeing 737 MAX 8 passenger jet.
The team will work with international regulators to investigate all aspects of the jet's automated flight control system, including its "design and pilots' interaction with the system, to determine its compliance with all applicable regulations and to identify future enhancements that might be needed," the FAA said. They will also review the certification of the system, which is believed to be responsible for two deadly crashes of Boeing 737 MAX 8s in recent months. Chris Hart, former National Transportation Safety Board chairman, will lead the joint task force.
Also on rt.com
Doomed Boeing 737 Max missing 2 key safety features that were sold as 'optional extras'
Both crashed Ethiopian Airlines 302 and Lion Air 610 were missing two safety features Boeing sold as "optional extras" which were meant to correct for possible failures of the onboard computer. Although it is unclear if they might have helped avoid the tragedies, Boeing now reportedly plans to add one of the features – an angle-of-attack "disagree light" giving the pilot a warning when the plane is about to stall – as standard operating equipment on future deliveries. The other feature, which gives pilots a visual representation of the airflow relative to the airplane's nose, will remain an optional add-on.
Meanwhile the US Senate Transportation Committee has demanded answers from the FAA after reports surfaced that inspectors tasked with signing off on the safety of the Boeing 737 MAX 8 were inadequately trained. The FAA is also under fire for allowing Boeing to conduct parts of its own safety testing and certification process.
Also on rt.com
'Inadequate training & certification?' Senate panel seeks answers from FAA over Boeing 737 crashes
Think your friends would be interested? Share this story!
You can share this story on social media: